I was an instant fan of Naked Princess from the time I slipped on their Lovely Ever After Bodysuit, which is still one of my favorite underwear and outerwear pieces that I own. I was even more of a fan when I got to see their collection at last February's Curve show as well as meet Becca and Michael in person. In addition to producing great lingerie and being style icons (I'm pretty sure I'd like to be Becca when I grow up), they're all around down to earth and nice people.
Given all of these factors, I'm thrilled to see the collection that I saw ages ago appear on the website! Naked Princess is working on incorporating all sizes into their line, so I'm thrilled to see that they've modified some things to work towards this goal. After all, everyone deserves beautiful lingerie!
For instance, take this new Lace and Silk Soft bra. I've tried soft cup bras from their previous collections and been really impressed. This season, it says they have added pliable boning for extra support. Hopefully I'll get a chance to compare the boning enhanced version! Additionally, the bra is gorgeous. I adore the new dove grey color.
High waist panties are my weakness, so it's great to see more brands producing them. This pair is beautiful.
This Chantilly Lace Robe was one of the pieces that Becca and I talked about in a full bust context at Curve last year, so I'm glad to see it make an appearance officially. The tie is adjustable to work for full bust women and it is designed to look flattering on a wide range of body types. I normally don't believe claims like this, but I've seen my bodysuit look great on everyone from a size 14 to a size 0.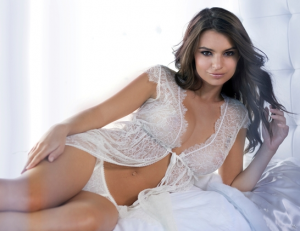 My favorite set from the new collection is this Boudoir Garter Camisole and Lace Cheeky Brief. These pictures really don't do the lace pieces justice. In person, they were so delicate and shimmery that we had trouble photographing them properly! This is also one of those pieces that generally isn't made/designed for fuller figured/fuller busted women, so it would be fun to think of ways to style it as outerwear if one was willing to be a bit brave.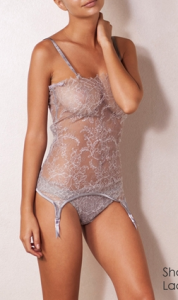 As a side note, I got to try this 24K Love Dust when I was at the show and can't say enough good things about it. I'm mostly a chapstick and moisturizer girl (makeup intimidates me), but even I fell in love with this shimmery powder. Even better, it smells yummy!
For more information about the new collection, go to the Naked Princess website. What do you think of it?