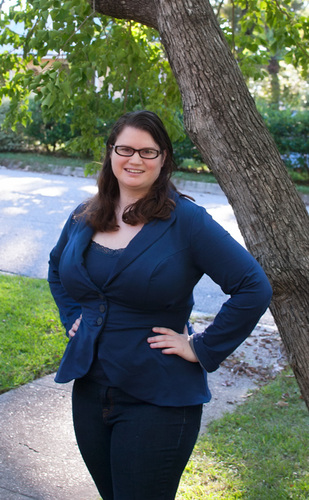 Urkye clothing has become a staple of many full bust friendly wardrobes, so I wasn't surprised to see the social media frenzy that happened when Urkye announced that they'd be producing several suit jackets for this season. Since the collection was released in stages, many people waited around for the jackets to be released before they picked up dresses or shirts. All of our hawk-eyed waiting paid off, as these suit jackets sold out almost completely within 24 hours of being listed on the Urkye site. If you didn't get one in the first round, Urkye should be making more – although it may take awhile given the fact that they're a small company with limited production.
I'm not naturally a suit jacket type, but I've honestly become a little frustrated with my restricted business wardrobe. On busy days when I have to run out to an in-person meeting, I don't always want to find the perfect dress and throw on the perfect undergarments with it. I've gotten increasingly jealous of the men who show up looking perfectly casual yet presentable in jeans and a suit jacket with a t-shirt under it. I want that option too!
This jacket isn't a true suit jacket in the non-stretch tailored sense of the word, so it won't replace a formal full suit. However, it's a great jacket over dresses and jeans for more casual business occasions. The jacket is made out of a thick jersey. It has structure, but it's soft and feels almost sweatshirt like. It will go perfectly with the Kieska dresses for winter. The whole jacket is lined in contrasting fabric – in the case of the navy blue jacket, the lining is grey.
I ordered a 42 oo/ooo in this jacket since I felt like the lining might take away some of the give. For reference, I ordered the Kieska dresses in this collection in a curve size down, since I felt like the first one I got had a ton of room in the shoulders/bust area. I'd definitely order your normal size in the jackets since they are a bit more structured. The sleeves are too long for my short little arms, but I have that issue in almost every shirt or jacket that I buy. I'll probably leave them instead of having them altered so I can roll the jacket up to my elbows if I want a different look.
I wasn't super excited about the colors in the latest Urkye collection, but I've loved them all in person much more than in the photos. This coat is a beautiful deep navy that is almost jewel toned in terms of brightness. It's gorgeous and will go with lots of my wardrobe. This coat works well over jeans and a tank top but will also look nice as a light coat over my dresses all winter.
The coat was $65, which is a worthwhile investment for something I'll get tons of wear out of. While it isn't a true suit coat, a real one would cost much more and wouldn't integrate into my wardrobe as well. If you're someone who lives in full suits and blouses or has a job that requires that kind of wardrobe, this may not be the best option for you. I get lots of creative license in my professional wardrobe since most people assume that copywriters are a little weirder to start with!
If you do want to pick up one of these, I'd check the Urkye site and see if your size shows up again once more returns are processed. They did said that lots of people bought multiple sizes so they thought that they would see some returns that others could pick up. If not, I'm sure there will be another round of these produced soon since they were such a hit.
What do you think of the Urkye suit coat? Do you love the idea of a jersey suit coat or would you pass on it?