After literally chasing my Brastop package all over town (one missed delivery, one federal holiday, two separate post offices) I returned home mostly triumphant. Even though I had to order a whole mess of different sizes, all the bras that came fit. I'm still missing a black Freya Antoinette and one garter for the Curvy Kate panties, but I've heard such great things about Brastop customer service that I'm sure both are temporary setbacks. As a reward for my efforts, I came home to find a lovely package from Butterfly Collection with a nice note from Claire in it! I'm going to be reviewing all of this in depth, but I wanted to put up some pictures and size comparisons today so you can see what everything looks like and how the cup sizes run.
When I put it all together, this is what it looks like (Click the image for a larger view).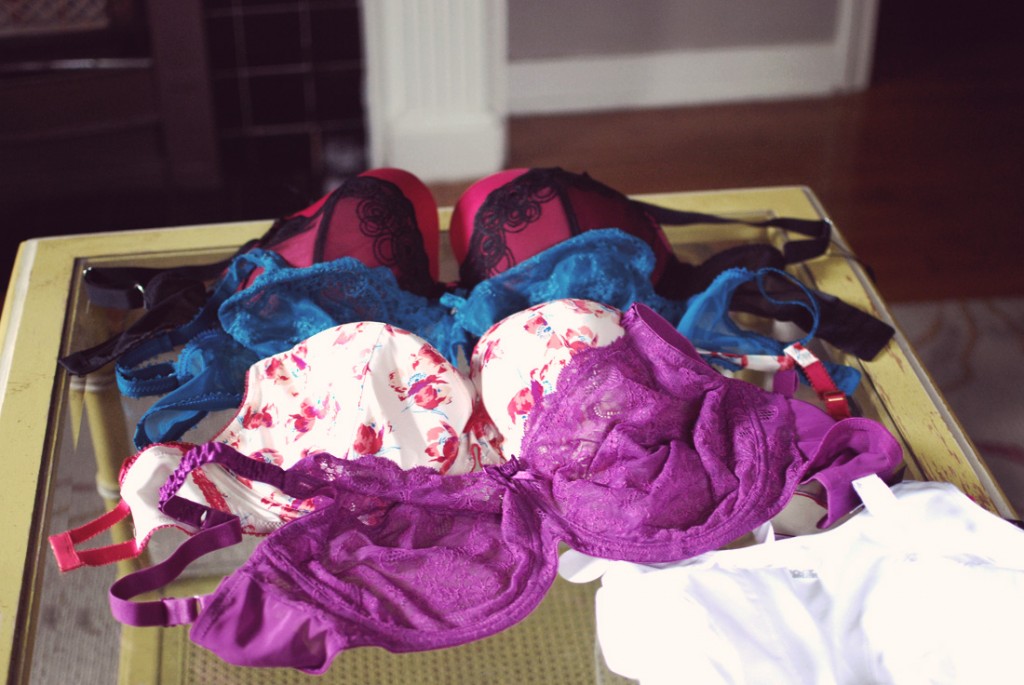 From top to bottom, we've got:
The Curvy Kate Showgirl Tempt Me Bra in Black/Scarlet
I had heard that Curvy Kate ran very small in the cup, so I ordered up. The 34GG fit me well (That's also my size in Freya). I've heard that the typical rule for Curvy Kate is two or three cup sizes up, and following that rule worked for me. This is my first Curvy Kate, so there will definitely be an in depth review in the future.
Charnos Cherub Full Cup Bra in Emerald Green
I was so excited to try this, because this corsetlette is one of my favorite lingerie pieces of all time. I ordered this bra in a 34FF(H) and it fit perfectly. Strangely enough, it reminded me of a higher quality version of this Figleaves brand bra, which I also owned and wore the hell out of until I dropped a back size.
Gossard Wildflower Plunge Bra in Cream
This was the bra that I felt the most on the fence about, because I normally stick with non-patterned bras. I was also nervous about the fit. Gossard only makes up to a 34FF, so if it didn't fit I wouldn't be able to wear anything from them. I was happy to find out that it was gorgeous in person, and that the 34FF was just fine.
Alegro Boudoir Starlet Pink Bra
I'm going to be doing a full review of this for the Butterfly Collection blog, but it was pretty much love at first sight when I opened it. I ordered it in a 34G, and was worried when I put it on that it might be too big! It fit beautifully, so maybe I was just adjusting to wearing an unpadded bra.
Shock Absorber Sports Bra
I ordered this in a 34GG, and without going out and playing tennis in it, it seems to fit fine. I'll report back once I get out on the court tonight! I'm still dying to try the new Panache sports bra for fun though.
Hopefully all of this helps if you're considering buying any of these brands! Until we develop some kind of standardized bra cup, we've got to stick together and help ourselves.
Do you have any experience with these brands? How do they fit you? Can you give the rest of us advice on sizing?