I've written a lot about Parfait by Affinitas, so I thought it was only right that they finally got a full Monday morning interview this week. I reviewed their Fiona cami for my column on The Lingerie Addict last week, and I continue to remain impressed by the full-busted lingerie they're putting out.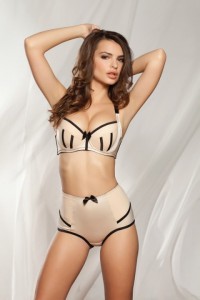 To put it simply, Parfait by Affinitas is one of the few brands putting out great stylish lingerie for full-busted women that won't make your bank account cry. Their Bess bra that is returning for Spring 2012 is one of the best bras that I own. They're also working on expanding their lines to include basques, babydolls, and padded camisoles that fit as well as their bras.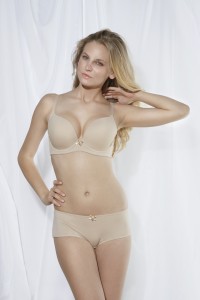 They are represented by Lauren Rich, who is on Twitter as @RichPRStar and is one of my all time favorite people in the industry. Lauren was nice enough to take some time and answer my questions about the Parfait by Affinitas line last week, so let's get started.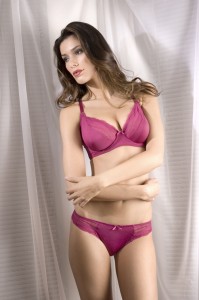 Holly: What are your most popular pieces?
Lauren: We are so glad our Parfait range is constantly growing in popularity all around, but some of our all-stars are:
Jeanie (4801) – The sexy deep plunge, contour cups and the retail price of $40.00 are all features full busted women are thrilled to have available to them! It's exceptional to have an everyday bra with a deep plunge that goes to 40G.
Kelly Molded Padded Bra & Wire Bra (67016 and 6702) – Great fitting cut-and-contour bras at an unbeatable price point. The Deep Orchid color is to die for, and has been a top seller!
Honey Underwire Babydoll (5808) – This underwire babydoll is specifically designed for the full-bust market (30-40 D-G). There was such a void in this marketplace for a babydoll sized by bra size! (Rather than S/M/L, etc.) The babydoll is sexy, elegant, a dream fit and gives fantastic lift and support. Done and done.
Charlotte 6901 – The flirty, retro style of this bra combined with its excellent fit has easily made it a bestseller. Press love it too – we're excited to say the bra has been featured in Allure, Women's Health, ESSENCE, Weight Watchers Magazine and more!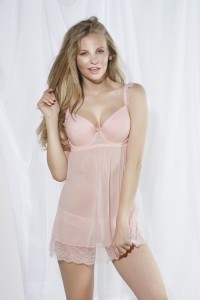 Holly: What goes into making high quality lingerie that is also very affordable? What is your design process like?
Lauren: The key is to source a variety of top quality materials from multiple suppliers to get the highest quality fabrics, trims, embellishments and more at the most competitive price. We produce all of our lingerie at reliable, cost-efficient production facilities, which allow us to offer such a wide range of looks at an affordable price point. Each season we aim to offer a range of styles that the Parfait girl would wear both every day and for special occasions. For this reason we are careful to design each collection to offer both basics in addition to trend-driven, flirty, and sexier styles. Whatever mood she's in, our goal is to have a Parfait piece to fit it! In addition to paying attention to trends, we pay utmost attention to fit. Our team of technical designers does an incredible job at perfecting each bra before it goes into production to make sure it's ideal for the full-bust woman. Our bras are all cut-and-sew, featuring plush body elastic, wide-set straps, side boning, power netting, and U-shaped backs to provide superior comfort & support.
Holly: Do you feel like you're influenced by any particular era or trend?
Lauren: We like to infuse chic European sensibility into every collection, however for Fall we especially drew upon the theme of romance and every girl's wish for a fairy-tale ending. This is seen in Fiona's beautiful jewel-toned Balconet Molded Padded Bra, Padded Underwire Camisole and more, featuring luxe stretch-satin with ruched black ribbon trim and sweet chiffon ruffles. Honey also draws upon this inspiration in the style's feminine flutter-sleeved Molded Bra, Underwire Babydoll and more, available for Fall in beautiful colors Purple Heart and Tango Red. For Spring, we were influenced by the motto "Girls Just Want to Have Fun," creating a collection of coquettishly feminine styles including hot pink Anna, retro-glam Alexis (with a darling satin high-waist brief), and floral Isabella. We mixed it up with a bit of menswear-inspiration seen in Kimberly's black and white pinstripes and Janet's sporty-feminine grey and light blue styles.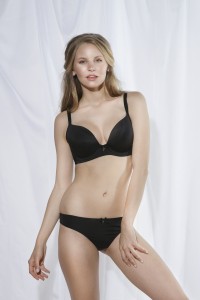 Holly: What's next for Parfait by Affinitas?
Lauren: We are excited to continue developing a top notch range of lingerie for the full-bust woman, in fit, style and price point. We're looking forward to introducing more of our best-selling Babydolls and Padded Camisoles, as well as growing our distribution worldwide. Stay tuned – there's a lot to look out for!
For more on Affinitas, please visit: Web: www.affinitasintimates.com
To enter the Affinitas Facebook giveaway, go here.