I've been making a concerted effort to get away from blue and green lingerie lately, and I fell in love with the Tilly Bra from Miss Mandalay as soon as I saw it. I loved the coral floral pattern and the cute little bow details, and I'd heard nothing but rave reviews about Miss Mandalay from other bloggers.
The lovely lingerie fairy at Large Cup Lingerie was nice enough to send me a set to try, and I awaited it eagerly. Cha, who runs Large Cup Lingerie, is a total sweetheart and is always around to answer my annoyingly precise lingerie questions. Large Cup Lingerie also provides free worldwide shipping, which puts it a step above lots of other companies shipping out of the UK if you're a US based lingerie buyer.
The Tilly set arrived beautifully packaged. I had intended to take a picture, but I was so eager to try the bra that I ended up opening it too fast to catch it on camera. The Tilly bra is a lightly padded balcony bra, which basically means it's lined with a thick cotton layer. I tend to own mostly unpadded lace bras or moulded bras, so this was less familiar territory to me.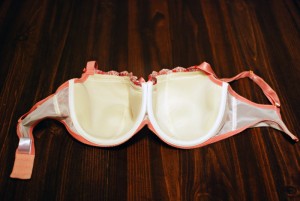 I loved the colors of this bra even more in person. Looking at colors on a computer can distort patterned bras sometimes, and these colors were much brighter and clearer in person. The pattern wasn't as busy as I expected, and I was so glad I'd taken a chance on something different from my usual stuff.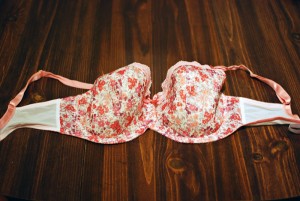 I ordered the Tilly short because I tend to be more of a boyshort person, but it doesn't have the cut of a traditional short. The short is also very sexy and very sheer. It may actually be the sheerest pair of knickers I own, which I didn't expect. The elastic is also looser than a lot of my other knickers, so you might want to go down a size from your normal when you order them.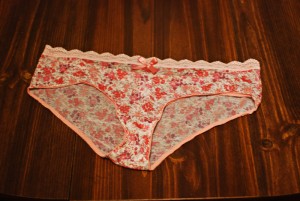 I ordered a 34G in the bra (I run between that and a 34GG in some bras), and it came up a smidge small in the cup. The band felt looser than some of my others, but that probably means it fits like a regular 34. I tend to like my bra bands much tighter than other people do. That said, I love the bra and it still looks great by itself and under a shirt.
This is a gorgeous bra, and wearing it reminds me of summer as the colder weather approaches. The bra straps are comfortable and stay put, and the knickers are sexy while providing more coverage than a thong. I'd definitely recommend this if you fit into the Miss Mandalay size range.
Next on my must have list from Large Cup Lingerie and Miss Mandalay is this gloriously girly butterfly print bikini. I've read that different styles from them fit very differently, so I'm definitely going to do the experiment.
Miss Mandalay lingerie can be purchased at Large Cup Lingerie. Large Cup Lingerie is an online lingerie boutique specializing in D-K cup lingerie.