I have had a really hard time getting this review together, and it's mostly because I spend so much time washing and wearing this shirt that it's hard to find a time to get photographs. However, I finally persevered with my iphone on my vacation, so I can finally talk about my new clothing obsession.
I'm becoming a big fan of Polish brands. Between the wonders of Ewa Michalak bras and Biu Biu clothing, I am almost ready to pick up and move to some gorgeous historial Polish city. Both of these brands really understand what curvy women want, which really sets them apart from lots of American and UK based companies.
Ironically, this porto shirt was sent to me by the fantastic UK based Annella Lingerie, which stocks both curve friendly lingerie brands as well as curve friendly clothing. This seems like a genius idea, and I don't know why more boutiques that cater to curvy women aren't picking it up. The shipping was quick, and Hannah was a pleasure to email with. Annella Lingerie has fantastic shipping from the UK to the US, so I highly recommend them if ordering clothes in Polish seems like a big hurdle. No one should miss out on this great brand.
I'd heard lots about Biu Biu, but had never gotten clothing with specialized sizing before. Pepperberry isn't really my style. Biu Biu clothing comes in a base size, in either a B/BB version or a BB/BBB version. If you're under a GG cup, you're a B/BB generally. If not, you will be a BB/BBB. I'm right on the edge (much like I am in bras), but I went for a 42 B/BB.
The porto currently comes in a teal color, a black color, and this maroon version. I love all three, but I went with the maroon to start.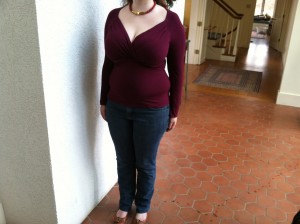 And here it is on me. Excuse the most unflattering jeans of all time, please. As you can see, it's rather more cleavagy on me than on the model, but that was expected. I intend to order the BB/BBB size for comparison next time. The material is soft, and the sleeves aren't even too long! I'm 5'4″, to give you a feel for the length of the sleeves and of the shirt itself. I'm completely in love with it.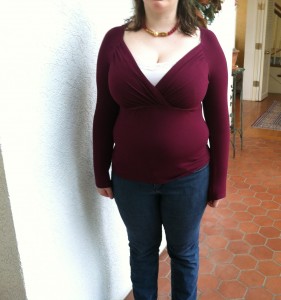 Here it is again, with a Second Base demi cami underneath it. If I was headed out to a business meeting, I'd wear it like this. It works perfectly with skirts and stockings, or just jeans and a jacket.
I'm so impressed with this brand. The waist, bust, and shoulder measurements are perfect, and the fabric is incredibly high quality. I can't wait to try more. If you want to see more of their dresses (I'm currently drooling over the Paris Dress pictured below), Darlene of Hourglassy has a great review up. No review is complete without a wish list, so here are some of the pieces I'm dying to try.
Are you a Biu Biu fan? What has your experience with them been?