There are some amazing new lingerie companies popping up this year, and Claudette seems to be at the top of everyone's list. They're getting tons of press, and deservedly so.  I'm especially excited that they're aggressively trying to expand their size range next year. If they can do it, I predict they'll become a leader in the full-busted market very quickly. Today I'm going to finish up my series on them by reviewing the incredible bras that they sent me.
I recieved both the Cool Cotton and the Mesh Dessous sets from this season. I picked mauve for my Cool Cotton set (which is their neutral), and hot pink in the Mesh Dessous set. Both bras were a 34G, and the bottoms were size L.
The Cool Cotton line is designed to provide breathable comfort and support. There are a lot of basic bras for full-busted women, but it can be hard to find one that is really cute. The Cool Cotton set fills this niche nicely.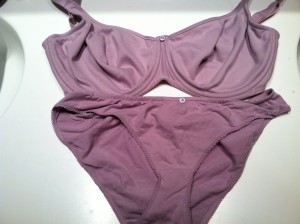 I love the subtle button detail on both the bra and the panties, and the mauve color is gorgeous. The straps are supportive without being really wide or cutting into my shoulders, and the cups give a great amount of coverage. The band feels like an average 34 band, and the cups feel pretty true to size. I might be better off in a 34GG in this bra, but until they make it I won't know for sure. I've been wearing the 34G with no problems for ages now, and it's stayed supportive and comfortable. Unlike some brands, I don't feel like either bra has stretched much at all despite some pretty intense wear.
The Mesh Dessous bra is the first sheer bra I've seen that is actually sheer the whole way through. Lots of full-busted bloggers complain about companies that line sheer bras with fabric in larger cup sizes, and I'm pleased that Claudette doesn't. Great design and construction make this bra totally sheer, and surprisingly supportive.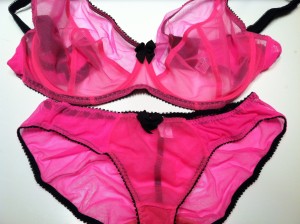 The Mesh Dessous line uses black trim for continuity, and it works. I feel like it makes the set look a little more grown up and sophisticated. The Mesh Dessous set looks exactly like all the bras I wanted to buy but never could, which is the best kind of lingerie for me. It's incredibly sexy, and I don't feel like I'm sacrificing support at all when I wear it.
I wear this set under lots of things, but my favorite use for it is as a layering piece with other lingerie pieces. I'm currently wearing frequently under my navy blue and hot pink Sonata teddy and a thin navy blue tank top. It gives a great hint of color under everything while still helping me stay very supported. Claudette currently has this bra out in mauve, hot pink, black, and leopard print. They're coming out with a massive amount of colors in the spring and next year, and I personally can't wait to get my hands on their electric blue version.
I usually do my bra reviews after a week or two, but this one has taken a little longer. As a result, these bras have been washed and worn extensively, and have gone on at least two road trips. I've hiked around NYC in them, gone to meetings in them, and gone to parties in them. They've worked for everything, and they've held up extremely well. I'm planning to add the mauve Mesh Dessous to my collection, as well as the leopard print. In other words, I'm in love with Claudette.
Claudette bras can be purchased online at boutiques like Faire Frou Frou, Real Girls, and Forty Winks.