I've spent time trying to fill in some lingerie basics lately, and one of the items I was missing was a robe. It seems like a basic piece, but I'm picky. I wanted something luxurious and comfortable that would fit perfectly. I also wanted something that would last with proper care.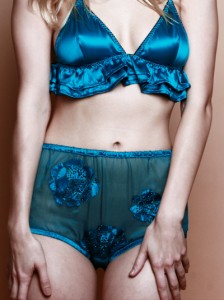 Enter La Lilouche, a brand I've been in love with for awhile. La Lilouche is the brainchild of Liya Amar, an Israeli designer with an amazing sense of playfulness and color. Liya has a completely unique take on the lingerie world, and her pieces work on a wide variety of shapes and sizes. She's primarily a made to measure designer, which means that everything she makes for you will fit perfectly.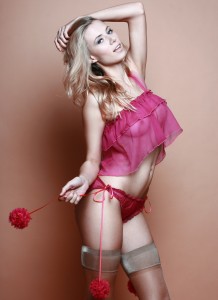 It will surprise you all to know that when faced with all of these lusciously colorful pieces, I choose basic black.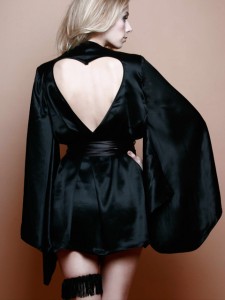 This Sophia robe had everything on my list. It's 100% silk, and definitely built to last. It's also very flattering on my curves, while still actually performing it's job as a robe.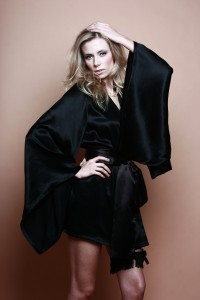 I placed my order through Bella Bella Boutique, and the whole process went really smoothly. Aline kept me updated, and a week and a half later I had my robe. I was impressed, as I know Liya is really busy these days and doesn't outsource production.
So how does it look?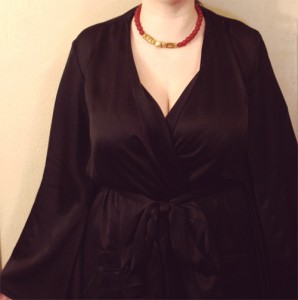 I love how the kimono style pulls me in at the waist so I look nice and trim! I also love how the robe shows enough to be sexy, but still gives nice coverage.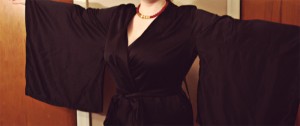 You can't quite tell in the Bella Bella pictures, but the sleeves are absolutely gigantic! I love it, but if you're looking for a practical robe this may not be your first choice. Didy (who is a 20 pound dog) can get his entire head into one (and has incidentally, found a new favorite way to bother me while I work by doing so). Again, notice the great silhouette it gives me, along with the waist definition.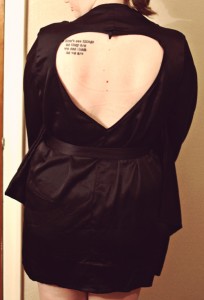 Here's the back view, which I didn't think much of until I saw how the pictures came out. I've lived with my two tattoos so long I forget that they're there, but I liked the look of this.
I've spent hours lounging in this since I got it. It's incredibly soft and comfortable, and I finally understand why everyone raves about silk lingerie. If you want to show off your curves, La Lilouche is a great made to order brand to try.
La Lilouche lingerie can be purchased through Liya's Etsy site, or through Bella Bella Boutique.