Bodysuits are my new kryptonite. I've amassed quite a collection of them, but so far all of them have been made to measure. Bodysuits that actually flatter in a size 12/14 are hard to find! Naked Princess pitched their bodysuit as the answer to my dreams a few weeks ago, and I'll have to admit I was skeptical. I get pitches from lots of brands whose idea of curve friendly is smashing your breasts into something two sizes too small, so I'm a little wary. In addition, Naked Princess is now a whole month old as a brand, and newer brands usually have lots of kinks to work out.
Their website was what sold me on them. I talk to clients all the about the importance of a great website, and Naked Princess has nailed their online presence. I asked for the Lovely Ever After Lace Bodysuit in Charcoal, and it showed up promptly five days later. The bodysuit is also available in creme and blush, but I have a charcoal grey skirt I wear all the time that I wanted to match something with. They also sent me a gorgeous lace mask as a bonus, which is perhaps the most decadent boudoir inspired item I've ever owned.
Each item comes it a gorgeous lace bag, which is great for presentation and for storage. I'm still storing my stuff in them in my drawers, which saves on space and keeps my new favorite bodysuit safe. Naked Princess mostly focuses on modal and lace items, along with body items, luxury makeup, and books for your stylish boudoir. Their lingerie line includes panties, soft cup bras, camisoles, robes, chemises, lounge pants, and bodysuits. All items are made in the US from French and Italian laces, silks, and cashmeres.
I'm a huge fan of modal lingerie, but it tends to be fairly hit or miss for me. I've had some that I loved that just fell apart when I hand washed it carefully, and some that has lasted forever and ever. I suspect this bodysuit will fall into the second category. I'm not sure where Naked Princess sources their modal from, but it's the softest fabric I've ever put on. I'd use it as pajamas if I wasn't so busy wearing it three days a week. It's several cuts above the modal that other luxury brands are using, and I've been incredibly impressed by how well the bodysuit has washed.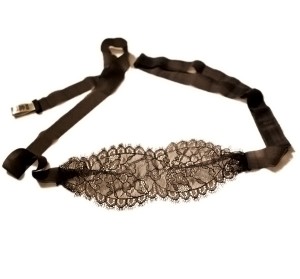 This bodysuit really works for me, especially paired with a skirt. I wear it with jeans and sweaters as well. Here it is with my favorite grey skirt. The tank top underneath is by Second Base, and the bra is the HP Puder by Ewa Michalak. I'd tell you where I bought the skirt if I hadn't had it so long that the tag has washed away.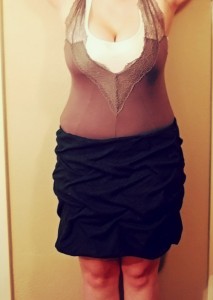 I love how this hugs my curves but doesn't add bulk, and I love the lace touches at the top. It looks pretty fantastic without a tank underneath it as well, but I can't exactly go to meetings like that. The grey is a deep charcoal that has an almost lavender hint to it, and is a really unusual color. This bodysuit is an XL, and it fits me perfectly.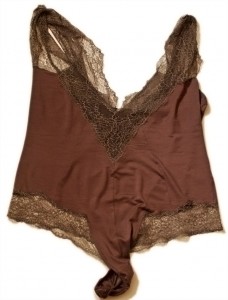 They've already released a preview of their newest collection, and I'll definitely be spending some quality time with them when I'm at Curve NY. Their new collection looks like it's just as fantastic as the first one.
If you're looking for a luxury lingerie line that will win you over instantly, and really does cater for curves, look no further than Naked Princess. You can purchase their amazing lingerie and other products at their website.