I've found myself at that stage in my life recently where I'm trying to go through and replace my cheap post-college things with high quality and slightly more stylish things. Recently, my focus has been my sleepwear. I've spent years sleeping in t-shirts with holes in them and shorts that don't fit, so I decided that this was the year to change that.
Here's the problem with sleepwear if you have a large cup size: there isn't much of it. Bravissimo offers some, but I haven't been very impressed with the pictures that I've seen of it on real people. Freya offers some, but it doesn't seem to be very supportive when you put it on. This is where Two Figs enters the market.
Two Figs is a wonderful company out of San Francisco that produces luxury sleepwear for D through G cup women. Deb Figge, the owner, has taken a very simple approach to putting her line together. Two Figs offers a variety of basic pieces, from camisole tops and shorts to full length triangle top gowns. All pieces are produced in black, white, and indigo.  Each piece features top of the line luxury materials, and are finished with Swiss lace. This simple approach means that each design has to really work.
I asked for the empire gown in indigo, as I wanted to try their most elegant and ladylike option. The package showed up two days later, and was wrapped beautifully. I was a little nervous, as the design appeared to be based on the dreaded shelf bra that I had spent my whole life avoiding, but really loved it once it was on. It was supportive (even though I'm now an H cup!), and absolutely beautiful on.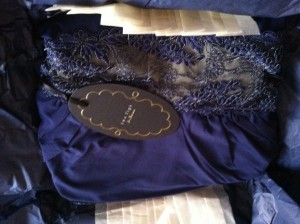 Honestly, the support from the gown feels a lot like the support my Shock Absorber sports bra gives me. This is a serious compliment, as I basically live in my Shock Absorber these days. Two Figs pieces are sold by band size instead of cup size, and the compression technique they use works. The 32 band fit me perfectly.
The straps on the gown are easily adjustable, along with being completely removable like the straps on a multiway bra. I suspect this means you could wear this gown as a halter or with crossed straps if it was more comfortable for you.
Here's what really impresses me about the Two Figs sleepwear line: when I tweeted about them, I got a response from Ellen Lewis saying that she loved them as well, and had the same gown. I don't know many pieces of lingerie that would work on two women of varying ages like that, but Two Figs pieces are classics. They'll look great on whether you're 25 or 75.
I'm looking forward to saving up and buying more pieces from Two Figs. They're a great option for anyone in their cup size range (and even above it), and any of their pieces would make a wonderful bridal or honeymoon set.