It's no secret that I'm kind of a book nerd, so it shouldn't surprise you when I say I discovered Jenny Mearns and her Frantic About Frances label through a Wizard of Oz themed line that she did. My love for her was cemented when she released her new Great Expectations inspired Estella knickers. I love Jenny's throughly girly take on lingerie, as well as her willingness to embrace bold prints and patterns.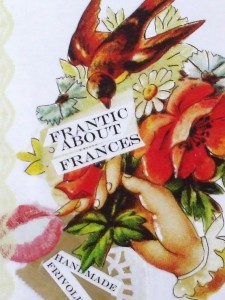 Holly:  What's the story behind your business name?
Jenny: I came up with the name Frantic About Frances, as Frances is one of my middle names. When I was younger, I disliked the name, but now I quite like it as I think it sounds quite retro. The phrase Frantic About Frances just kind of drifted into my head one day, and I thought it was perfect for my lingerie label, it sounds a bit kitsh, retro and 50's, which is all the things I want my label to reflect.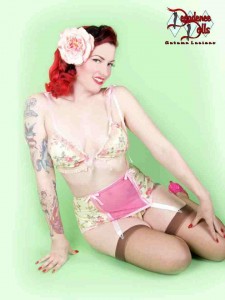 Holly: I particularly love your girly vintage look. What made you choose this aesthetic, and how do you develop such a diverse range of pieces within one style?
Jenny: I have always loved quirky feminine prints such as birds, mushrooms and sweets, and I thought it would be wonderful to make lingerie with these cute prints. I looked around, and realized that no-one else seemed to doing this, so I thought it would be perfect for my label. I think my background in costume design influences a lot of my design decisions, I am fascinated by 19th century fashion, in particular dresses by Charles Frederick Worth, which had such beautiful embellishments and trimmings. I like to use gorgeous trimmings in a lot of my work, which harks back to this wonderfully feminine era.
My designs change as I change and grow with my business, but I always tend to keep an underlining theme throughout all of my work, which makes it identifiable as a Frantic About Frances piece. I try to cater for different tastes and customer bases, so hopefully there is something for everyone.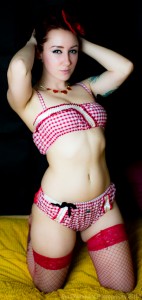 Holly:  What's next for Frantic About Frances? Are there any plans to expand? What new styles and patterns can we expect to see in the future?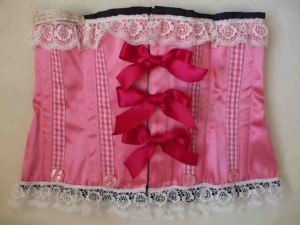 Jenny: This year is going to be a very exciting year for my business, I am showing my S/S13 collections at my first lingerie tradeshow in August, at MODA in Birmingham.  I am also hoping to expand and grow the business, by securing stockists across the UK and eventually worldwide. As for new styles and patterns, I literally have ideas 24/7, so I expect there will be plenty of new and exciting things coming up! For the moment, the most recent addition to my collections, is the introduction of corsets. These are authentically steel boned, made to reduce your waist by up to 4 inches. I will be producing underbust and overbust corsets with lots of gorgeous decoration on them, in keeping with my collections.