I discovered Lou Lou Loves You right after becoming a columnist for the The Lingerie Addict, and I've been a raving fan ever since. Lou Lou's designs are right up my alley for a plethora of reasons: they're girly, dreamy, and are filled with a love of literature and pop culture. I managed to catch up with her last week to talk about her plans for the line, and for her new 101 Dalmatians influenced collection.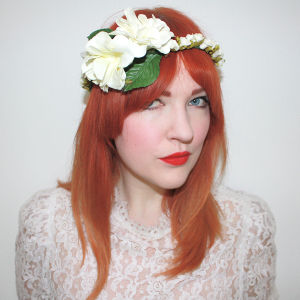 Holly: Your lingerie has a literary influence to it, from the Alice In Wonderland feel of the Lux collection to the Le Petit Prince style prints in the Louniverse collars. What sorts of things get you inspired when you're preparing a new collection?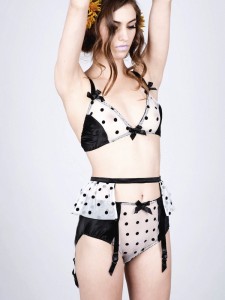 Lou Lou: Hello!
I am a huge Disney fan and some of the classic Disney movies are things that I watch when I'm thinking of new designs. Loulou was my first collection and was inspired by what Disney Princesses might wear under their dresses, and of course their talent for tieing the perfect bow. Lux was designed with a grown up Alice in mind. When I was working on the new collection Lydia I'd been watching 101 Dalmations but I was also thinking along the lines of espionage & superheros.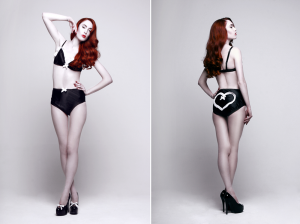 I like to think what characters are wearing under clothing. I always watch movies and tv shows whilst sewing so I suppose that will always be filtering in and inspiring me.
Other things that are currently inspiring me are holding hands, desserts, ice cream parlours, heart shaped anything, the eternal ethereal, magic, girlfriends, bad crushes, solitude, daydreaming, sexy sleepovers, California, road trips & being the best version of you possible.
I also always always make something that I would like for myself!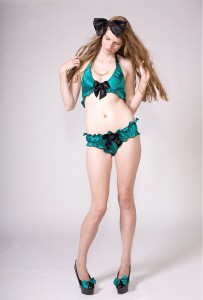 Holly:  You're an illustrator as well as a lingerie designer. Do you feel like this gives you advantages the most designers don't have, and how do your illustrations influence your lingerie lines?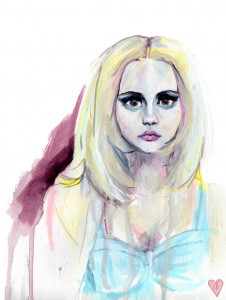 Lou Lou: I've always thought of Loulou Loves You as a creative outlet for me, it's one of the ways I like to express ideas. Drawing and Painting is another way. Oddly enough it's very rare that I make sketches for the lingerie styles. I work from my head to the fabric. When I paint I have a different set of projects that I am working through, such as painting many of the new people I met in the past year, painting from favourite movie stills & various doodles of monsters animals and magic.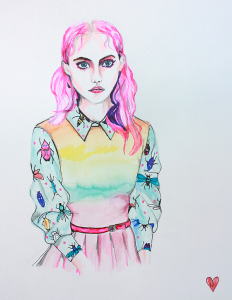 I am however this season starting to do some illustrations from the AW2012 collections so it will be fun to see how the catwalk looks via my pen!
I think that having a visual mind will always help me as a designer because I am able to dream up an idea and make it. I'm sure most designers have a similar thing going inside their head! I think probably it's the creating and sewing pieces for Loulou Loves You that has helped my artwork because it's encouraged me to be more creative, experiment more and got me used to translating the clouds in my brain into something that I love and I hope other people do too.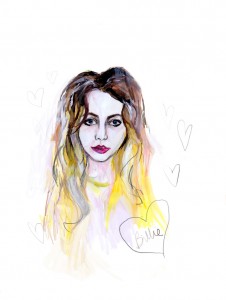 Holly: What's next for LouLou Loves You as a brand? What can we expect to see in future collections?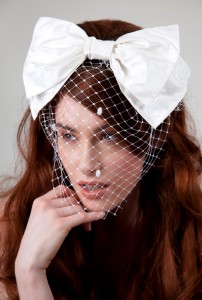 Lou Lou: I'm actually at the start of making a lot of changes to the brand!
I'm opening up the website to include all of my endeavours, from sewing to illustration and keeping a blog for writing that I do.
Lingerie wise I'm going to be making it a lot smaller, discontinuing some older lines and selling a selection of best selling items. I will also be creating one off styles which will sell in very small limited runs. I feel like this will allow me to be more creative and be more exclusive for customers. I'm super excited about this as I have a few pieces I've been dreaming up and I like the idea of being able to bring out more items when I choose.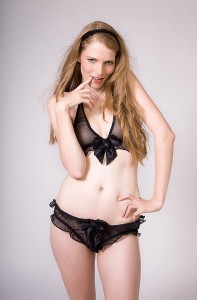 I also trained as a massage therapist last year so that will be something else I am working on. I really like to focus on the individual, helping people feel great, so working through these different outlets keeps my brain active and my heart happy.
I'd love it if anyone who wants to keep up with the changes signs up to the mailing list / Facebook & Twitter as that's where I will be posting all the news!