Today we're interviewing Norma Loehr, who runs Orange Lingerie. Norma creates custom made bras for all of her clients using her expert understanding of lingerie construction and the human body. Her bras are beautiful and built to last.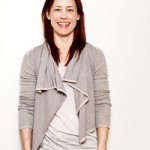 Holly:  What was your path into the lingerie business?
Norma: I suppose I took an unconventional path into the lingerie business – as if there is a conventional one! I started sewing at age 9 and one of my early projects was making my own bikini style underwear. Over the years I loved creating garments that fit and were the exact style and fit that I wanted. Growing up sewing made me very particular about getting exactly the garment I wanted and one that fits properly!
I kept designing and making my own clothes up until I started working on Wall Street and reached that point in my career where there was no time outside of work to pursue my creative interests. At that point I started having my shirts, suits, etc. made for me. At this same time I was practicing CrossFit and in the process of becoming more fit, my body changed. Ready-to-wear bras no longer fit properly which was sad since I really loved pretty lingerie. Making it even worse, I could not find anyone to make me bras. I started to get the idea that I could make my own bras that fit me and surely others would be interested as well!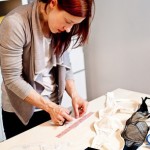 Finally reaching a point where I could quit working in financial services, I created Orange Lingerie. I already had the pattern making, construction and design skills, I just needed to learn how to fit bras on a variety of body types. Finding the classes at the traditional schools were focused solely on ready-to-wear and not on fitting to different sizes and shapes, I searched for someone to learn from and found a woman in Canada who taught fitting. So I moved to Canada for a few months to learn directly from her! After nearly a year of practicing on any woman who lend me her body for fitting in exchange for a bra, I started offering my services to clients.
I have a bit more detail on this topic on my blog here.
Holly:  Why custom bras instead of a seasonal lingerie line? What are the joys of being a custom bra business?
Norma: I have been very focused on custom bras since fit has always been my primary focus. I always enjoyed the tailor client relationship and wanted to create that same personal service in my business. In the process of creating clients' bras, I hear about their fitting issues and what they believe to be their figure flaws and I love working on the solution. The most satisfying part of my job is when a client puts on a finished fitted bra and marvels at the comfort and the transformation of her figure.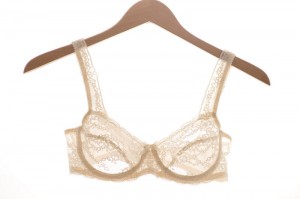 The advantage of being a custom bra maker versus producing a seasonal ready-to-wear line is that I am not bound to any season or palette, I have much more design freedom. I can be more creative and adapt to fashion trends faster (even mid-season) than if I was producing a line.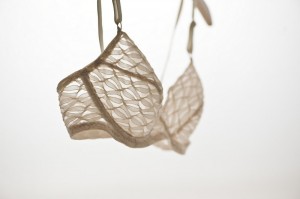 Of course the custom business is not very scalable so I have not ruled out launching a seasonal lingerie line! I have also been fielding inquiries from lingerie designers to make their patterns and/or samples, a service that is in short supply when it comes to bras.
Holly: What's the biggest challenge when it comes to building bras for women with large cup sizes? What styles or materials would you recommend for them?
Norma: The biggest challenge creating bras for larger cup sizes is enforcing choices of fabrication and style that provide them with support. I am forever a champion of bras that fit well and flatter the figure.
Women with larger cup sizes need to select cup materials that have low to no stretch to provide support and lift. I have clients who fall into the larger cup category who want to use the fabrics they normally cannot find for their size such as stretch lace or stretch mesh. There is a reason that these materials are not used for their size: alone they do not provide enough support. Often I can make these materials work, for example, if I use a suitable lining fabric, but these fabrics can not be used alone which can make for a slightly different appearance (e.g. less sheerness).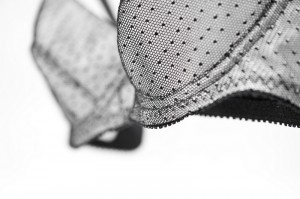 On the style front, for larger cup sizes, I like to employ some structural tools such as a 3 piece cup and a side support power bar. Many women with a larger cup size want what they see in the big name designer sample sizes – cups with no darts or with minimal darting or seams. It is very difficult to create a well fitting fabric cup with lift and support for a larger cup size with that kind of structure.
I also work against what the ready to wear industry has put forth for so long: the rounded dome shape breast. While I can certainly create this look as well using foam or fabric, the compression effect pushes the breast tissue down and out to the side and I am not a fan of what it does to the woman's silhouette.