Anyone who reads this blog on even a semi-regular basis knows that I have a special place in my heart (and my wallet) for independent lingerie designers. I plan my lingerie buying ahead of time and buy carefully, and my monthly purchases end up being almost 75% made up of pieces from indie and made-to-measure designers.
We're halfway through the "Love Bomb" event put on by a group of indie lingerie brands, and in the midst of all this Mary Portas has announced that she is "turning the light back on for Great British Manufacturing" with her new line of UK produced lingerie. These two events reflect the challenges that indie designers face, and the solutions that they are putting forward to combat them.
If you haven't been following the Love Bomb event, it's a brilliant marketing event in which a group of indie lingerie brands have gotten together to host two weeks of giveaways and cross promote each other. It includes some of my favorite brands including Kiss Me Deadly, Ayten Gasson, and Kriss Soonik. The full list of participating brands can be found here. I love that all of these brands are working together to further a common cause, and I think this series of giveaways is inspired.
Mary Portas represents the other set of market forces working against these designers, all while harnessing one of the very things that makes them stand out: local production and local materials.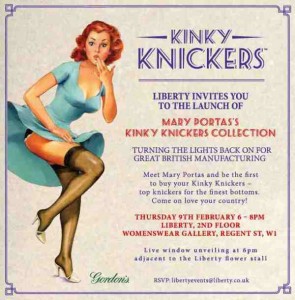 The UK indie lingerie brands that use local production and local materials back up their claims. Instead of creating new factories, they are keeping existing local factories in business. Instead of using cheap imported lace, they're using UK produced lace. Put lightly, they're taking a large bite out of their bottom line to maintain these standards, and it's one of the reasons they produce such high quality pieces. Mary Portas' claim that she is singlehandedly saving the state of British manufacturing is ridiculous and insulting to those indie designers who have been maintaining rigorous standards for years.
As the lingerie market becomes more saturated brands are struggling to find ways to differentiate themselves, and local lingerie is the new fad. As larger brands try and take advantage of this, smaller indie brands will have to fight them for the locally made market share. Events like the Love Bomb are a great way to highlight the principles and practices that these designers are using, as well as show the sheer creativity of the indie lingerie industry. Please support them by entering the Love Bomb giveaway events, and generally doing your research before you buy from a company that claims to produce their pieces locally.