I've been a fan of Ayten Gasson's for a long time, but I hadn't really had a chance to get to know her or her work before this Mary Portas Knickers controversy. Ayten has become one of the voices standing up for real British manufacturing, and I respect how she's spoken up all throughout this debate.
What finally made me take the plunge and buy something from Ayten was the pattern in this Carla set. I don't normally gravitate to prints, but I'm a sucker for liberty print things and this was one of the most beautiful versions I'd ever seen. I also love incorporating lingerie pieces into my daily wardrobe, and this kimono inspired bed jacket seemed like just the thing to get me through a hot Southern summer. I almost never buy baggy pieces, but I was hoping that this bed jacket would be flattering rather than make me look bigger. Being me, I was also excited to find a piece that would help me dress up my uniform of jeans and a tank top.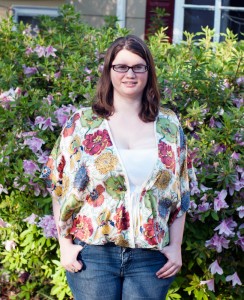 Opening this set was a really wonderful surprise. Occasionally a piece of lingerie looks completely different in person than it does in photos, and the Carla set looked like a whole different set of lingerie to me when I opened the box. It's still the most amazing print I've ever seen, but the colors are less pastel and more fall-centric than I expected. I actually think I like it more this way. I've included a gallery here when you can see some of the detail, both in terms of manufacturing and fabric quality as well as the individual pieces. The silk is soft and clearly of superior quality.
I'm not a really high-fashion woman, but I've already thought up multiple ways to wear the bed jacket. It looks great with jeans, or with my navy blue satin pencil skirt. I've already worn it out two or three times since it showed up on my doorstep, and I've gotten multiple compliments each time from both men and women. I love it so much that I'm already planning to get a second one in a different fabric for variety.
The knickers are 100% silk, and fit like a dream. I love the way the cream breaks up the print, and the summery feel that they have. They're definitely going to be my go to knickers when I need a pick me up.
This set is from Ayten's Autumn/Winter 2012 line, which won't be released for several months, but you can pre-order it here. She's definitely a luxury designer, but I truly believe that this set is more than worth the money I paid for it. If you're looking for a special occasion set or just splurging for yourself, this set is a great purchase.