I went to Curve NYC for the first time this year, and it was an amazing and eye opening experience. I also came back with the flu/cough of doom that overtook many of the trade show attendees, so I've had a lot of time to reflect on the show in between sleeping and drinking copious amounts of herbal tea.
I touched on this issue briefly in my latest piece for The Lingerie Addict, but wanted to go into my experiences at Curve in more depth. Over the course of three days, I met lots of people who identified me both as a full bust blogger and a plus size blogger and had all kinds of opinions about what those two categories meant. Comments ranged from one store owner telling me, "Oh, they didn't do plus size" when I mentioned that I was a full bust blogger and from people asking me what I thought of the trends in the plus size market.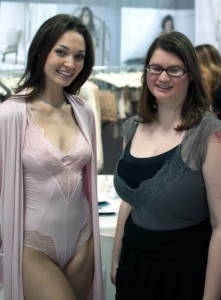 I'm currently a size 14 on top and a size 12 on bottom, so I felt a little taken aback at this. There are lots of fabulous and gorgeous plus size bloggers out there, but I've never considered myself among their ranks. Put simply, clothes that work for a 12/14 are a very different market from clothes that work from size 16/18 and up, and I don't know much beyond my own speciality area. When I put my columns together I do try to cover a range of sizes, but I also specialize in an audience that is probably in the size 6 to 14 area. What I do have is J cup breasts, which I think throws people. It's easy to assume that if a woman wears a larger cup size that she's part of the plus size market, but it's much more complex than that in reality.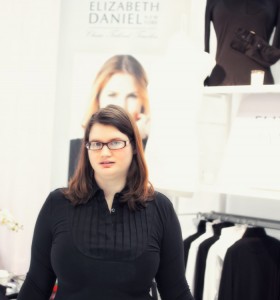 The full bust market covers everyone from the 28J woman to the 34KK/L woman. People might argue about the definition, but usually if you're a 34 back or under and a DD cup or over you're pretty solidly in the full bust market. A 36 band size and up puts you in the plus size market, generally. There are fantastic designers making great lingerie in both of these categories, but they don't tend to cross over as much as you'd think. For instance, Elomi is an amazing plus size brand that makes larger cup sizes as well, but I don't talk about them much because they make very few 34 band sizes, and I'm more like a 32 these days anyway.
Ultimately, sticking these two markets together is doing everyone a disservice. Everyone deserves clothes and lingerie that make them look beautiful, but the two markets have very different needs. Acknowledging that is the first step towards equalizing the fashion world and making it a place that serves everyone.
If you're looking for some great plus size bloggers to follow, two of my favorites are Georgina Horne of Fuller Figure Fuller Bust and Ash of Ash in Fashion.