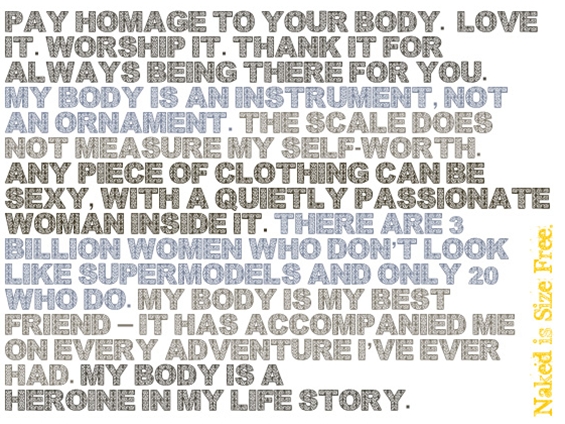 Reign Magazine put up this graphic this past Monday, and tweeted a group of bloggers (myself included) who they said were their inspiration for it. I found this incredibly flattering, but also sort of ironic considering I've been going through some serious body issues lately. I don't write much about my inner thoughts on here, but as I've talked about it to other people they've encouraged me to share my experiences. I think when we talk about our bodies and how we feel about them, it's important to understand that other people are going through the same thing.
I'm generally a pretty body positive person, but several months ago I decided I was going to get in shape and lose a bunch of weight. I lost about 15 pounds (which I have kept off), but hit a plateau when business got busy. Working out takes time, and I just haven't had much of that recently. While I'm thrilled about all the business I'm getting, I'd like to get back into a routine.
At the same time, I also decided that my wardrobe wasn't doing my body image or myself any favors. It mostly consisted of jeans and old college era t-shirts, which only made me look shorter and heavier. I've discovered that if I put on even a mildly flattering skirt and top, I look like a whole different person. All of my jeans had holes in them, and I didn't replace any of them. I decided that if I was going to leave the house, I was going to have to really get dressed to do it. I even picked up my first real little black dress, as I felt confident enough to rock it at a size 12/14.
All that having been said, I've been going through some real ups and downs with my new look. I'd like to tone up more, and I have the body type where all of my weight gathers in my stomach and breasts. I'm trying to come to terms with no matter how much I tone up, I'm not going to get any taller. When you work at a job where you literally stare at pictures of other women all day, this can be a depressing life fact. It's not even a body type thing for me, because I know lots of size 20+ bloggers who I think are absolutely gorgeous. I just can't seem to translate that to how I feel about my body on a daily basis.
And here, I suppose, is the takeaway for me this week. While we may have lots of positive feelings about other people's bodies, it's incredibly hard to embrace those same things when you see it staring back at you in the mirror. So while I'm still working on the toning and weight thing, I'm going to shift my focus to feeling and looking good on a daily basis no matter what size I'm at. I'm hoping it will put me in a more positive mindset about the whole thing. I'm also going to try to post more pictures on here, since that's something I've avoided due to some mixed feelings about my weight distribution and wardrobe. Surely, there must be a way to combine the changes I want to see with positive feelings about what I have now!
As a result of all of this, I'm thinking of developing a semi-regular blog series on clothing choices for curvy women, and I'd love to see multiple people contribute to it. If you're interested, please leave a comment and we can set something up.