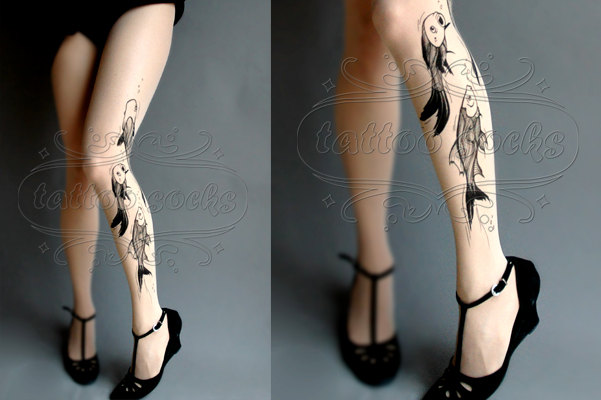 As the proud owner of two tattoos, I'm always a little amused by the envious way that some women look at them. Usually, people ask how much it hurt to get them, and then tell me all the reasons why they wouldn't have one. I'm currently loving the new Spring/Summer trend that uses tattoo prints and illusion printing to let people explore their own fascination with body art, if just for a few hours.
These amazing stockings from Tattoo Socks show that it's easy to slip on a tattoo for a day, at least this lingerie season. I'm a huge fan (and customer) of Tattoo Socks, and as soon as these come out in a thigh high version they will be in my shopping cart. Their stockings aren't sheer or even very traditional. They come in a variety of colors to match various skin tones, along with white and grey as more neutral basics. The stockings are thick and durable instead of sheer and delicate, all to further the tattoo illusion. I own several pairs, and get comments every time that I wear them out. They're also incredibly affordable, and you can get an even better deal if you buy four pairs at once.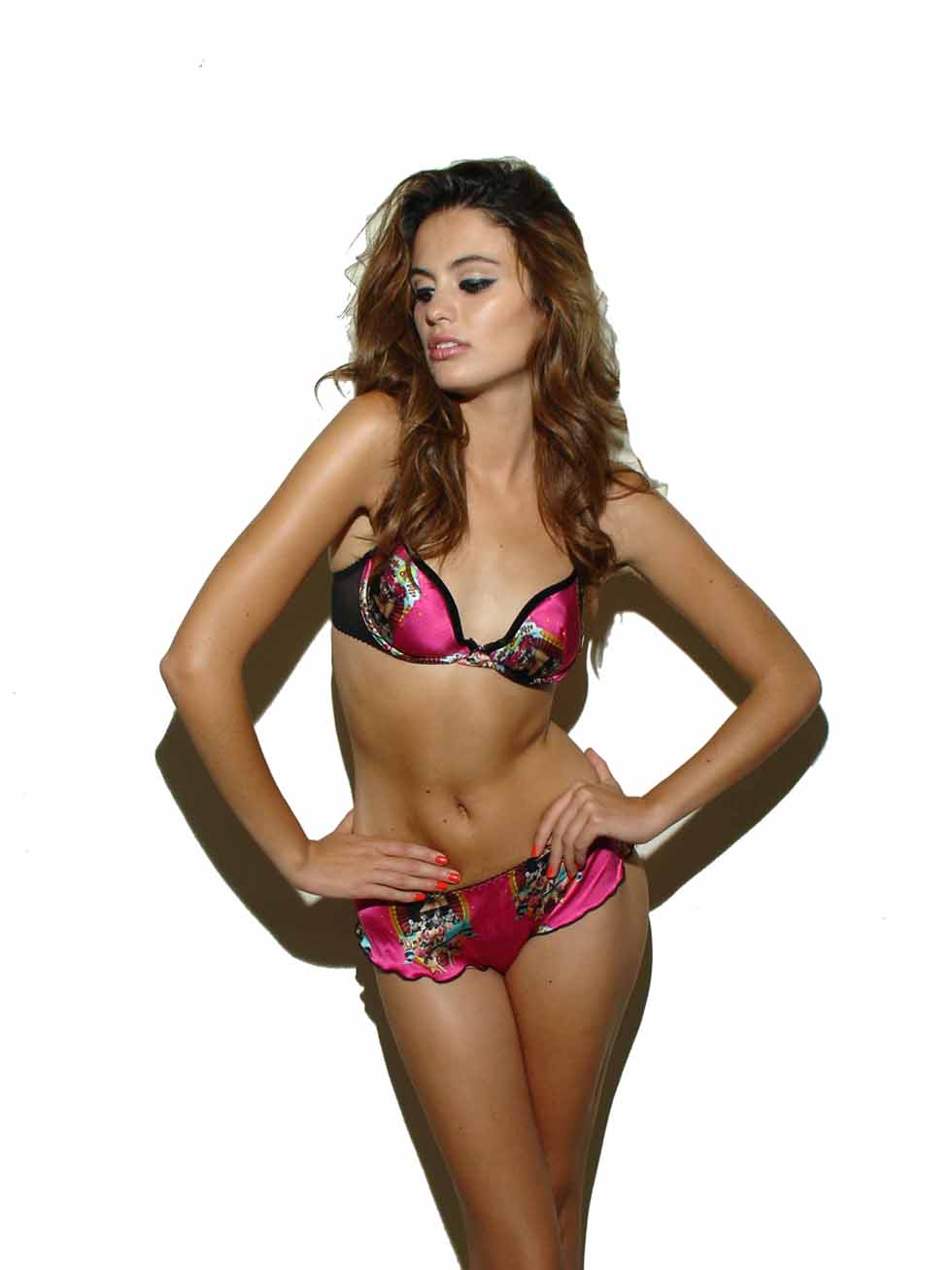 This set from Yes Master is a whole different take on the tattoo print trend, and definitely moves in it a more rockabilly direction. I love the digitally printed hot pink silk, and the silhouette of the bra and panties. If you fit into their size range (and this set goes up to a DD), this would make a great special occasion set for the summer. It's stocked at the wonderful boutique Rosebud and Slave, which always seems to pick up the best independent designer lingerie.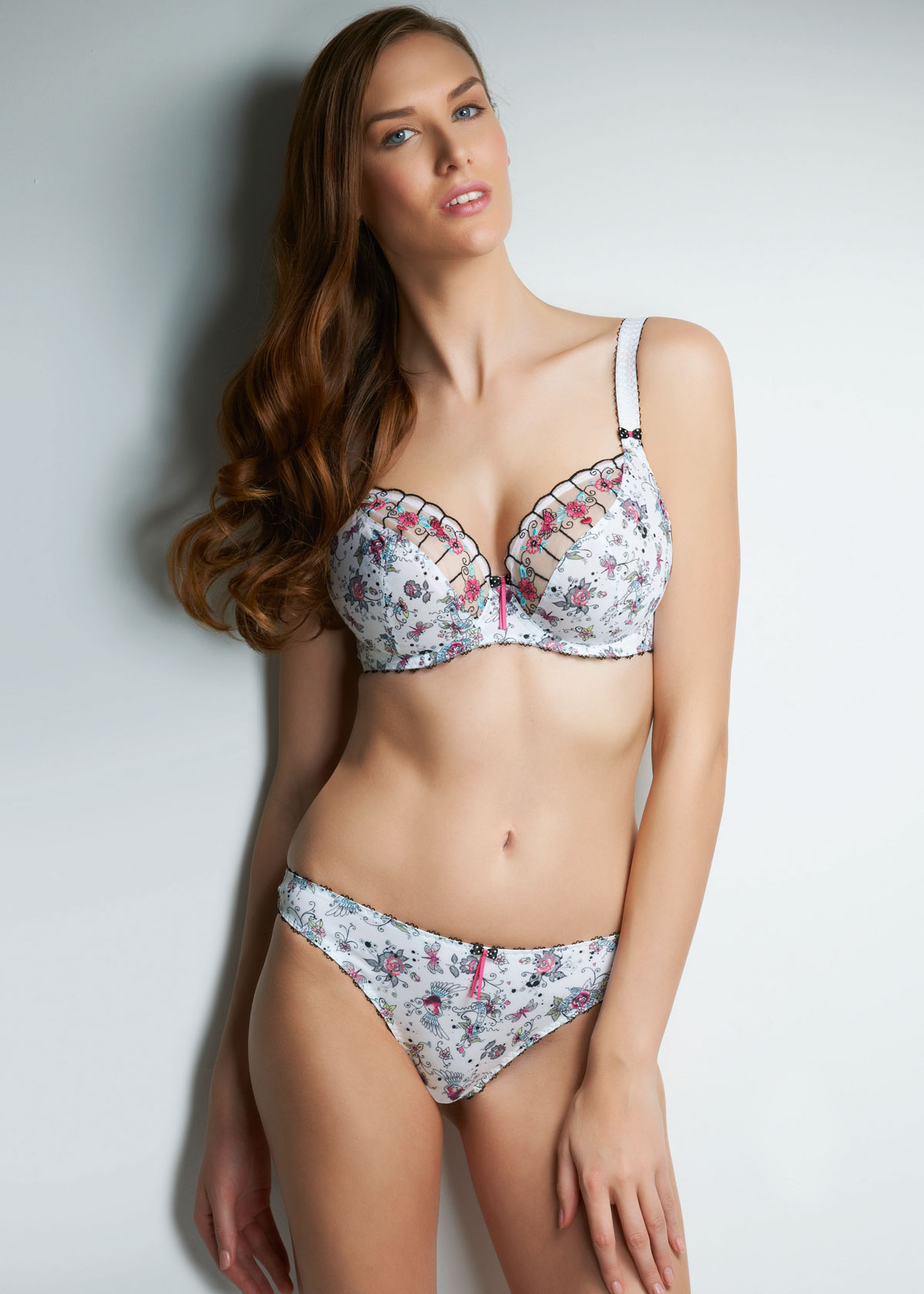 You know something is officially a trend when the big guys start showing it, and this Ada Set is a nice practical way to incorporate your love of body art into your lingerie. I love how this is a plunge bra, which gives it even more sex appeal. It comes in B through H cups, which means that a wide variety of women can take advantage of this trendy set that works for everyday wear. The only downside is that it doesn't come out until July, so be prepared to wait awhile to get your hands on it.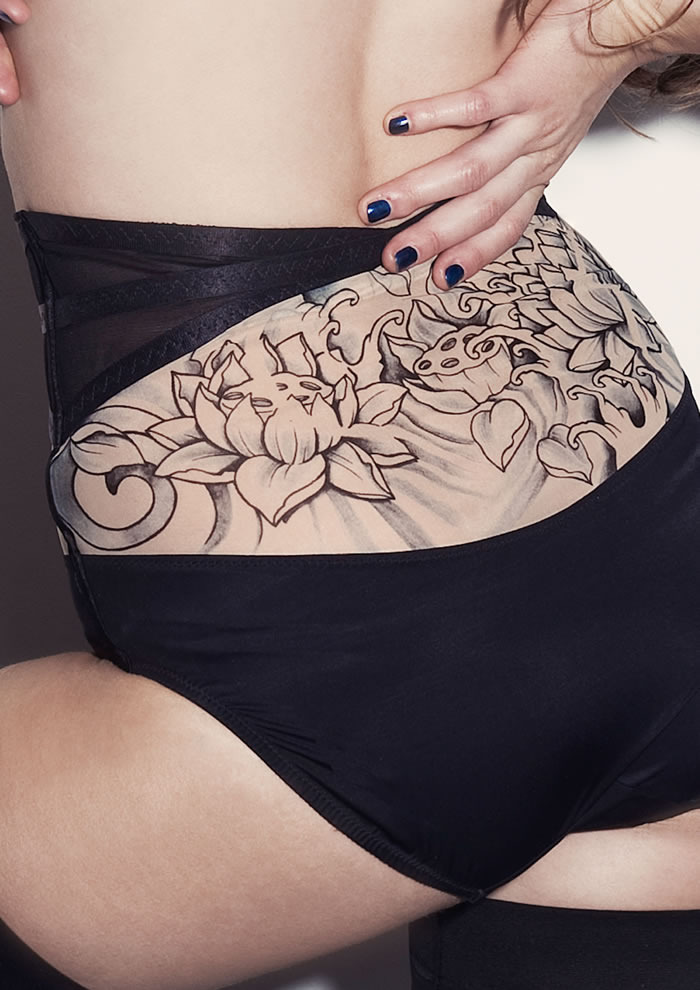 I got to try a pair of these recently, and was floored by how much I loved them. Not only is Tatu Couture trendy, but she incorporates shapewear fabics to make the most of your curves without that uncomfortable stuffed sausage feeling that you can get from shapewear. Her pieces also go up to XL, which fit my size 12/14 body perfectly. If you've ever wanted a large tattoo but aren't sure how you feel about showing one off to the world, check out these cool and comfortable high waisted briefs.
Have I missed any great tattoo print pieces? Do you see this trend becoming a part of your warm weather lingerie wardrobe?