Today I'm interviewing Rampaige, the artist behind the wildly popular Busty Girl Comics! Her comics show the realistic (and hilarious) side of being full busted. To make the comics bigger, just click on the picture!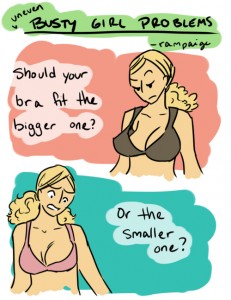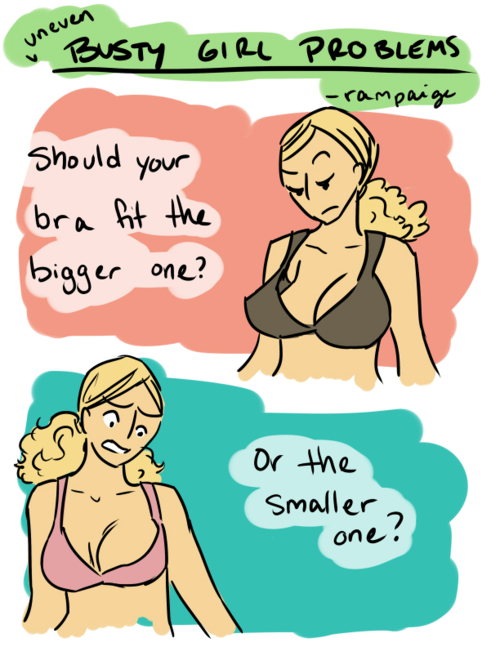 Holly: You've managed to create a really positive community for busty women with your comics. Was that your intention when you set out, or were you just fooling around with a new kind of art medium?
Rampaige: Honestly, I was actually pretty upset one night about where my art was going and my inability to wear a shirt I wanted because the image would distort too much. I started one comic and the ideas just kept coming. Since I started the comics to vent my frustrations, I didn't want it to be a source of frustrations for other people so I try hard to keep it as positive and inclusive as possible.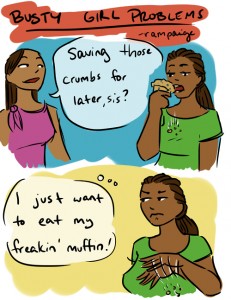 Holly: Do the busty girl "problems" you describe come from personal experience or from your readers?
Rampaige: Both! The comics are usually drawn from my own experiences but it usually takes suggestions from readers to get the creative juices flowing. Often when something gets suggested enough that I either haven't experienced or dealt with recently, I make a point to go out and try it. (Example: I just got back from Yoga. Expect a comic soon.)
Holly: I know you have plans to publish the comics soon. WIll this be an ongoing project or just a one off book?
Rampaige: I fully intend to keep the comics coming and if this first book goes well, I'll be putting out another book every milestone.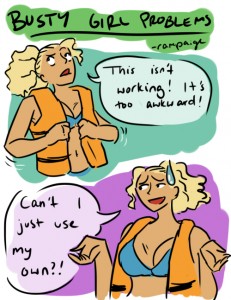 Holly: What have you learned about being busty that you didn't know before as a result of this project?
Rampaige: Thanks to my readers, I've gotten to learn a lot more about breast reduction surgery, busty non-cisgendered people problems, and breast feeding. Since I've never dealt with these situations personally, it's been really wonderful hearing about their experiences. I'm also continually  surprised with how eager everyone is to accept, advise and support one another.