I'm so thrilled to be able to show you the newest La Lilouche line today! La Lilouche was nice enough to give us first dibs on the pictures and everything is just as gorgeous as expected. She also made time in her busy schedule to answer some questions about her line, her inspirations and what she does when she's not making beautiful lingerie. The newest collection is called "Bedroom Hymns" and will be out in late June. I already have several pieces of my must purchase list, so it may feel like a very long wait!
Photo credits for all images are as follows:
Photography: Roy Peri
Model: Beata
Hair & Make up: Msik Sudio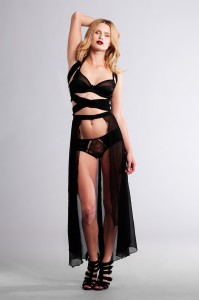 Holly:  What's the philosophy behind La Lilouche? When you create your pieces, what kind of woman do you picture wearing them?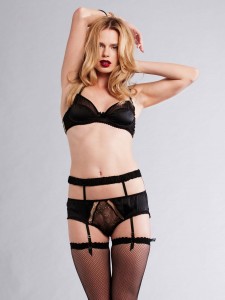 Liya: To be honest, my label philosophy is something that defines itself and evolves by the day. Traveling around the world has inspired me to be more experimental. But when I think about La Lilouche and how I imagined it when I started this label is that La Lilouche is all about creating fun and something theatrical! I focus on fashion forward lingerie that is priced appropriately given the work put into it.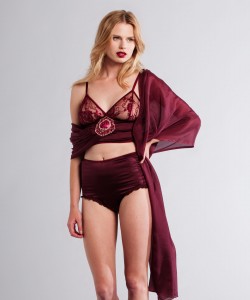 I also focus on keeping the design spirit always fresh and different from collection to collection and pushing boundaries to explore different design directions, taking women's undergarments to a different place and mostly keeping my customers on their  toes!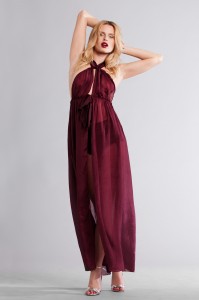 The woman who wears La Lilouche is a modern woman who is passionate about fashion, feels comfortable about her body and is confident enough to express herself. She expresses her individuality by wearing beautiful garments and appreciates handcrafts.
Holly:  What inspired you going into the new season, and what can we expect to see from the Bedroom Hymns?
Liya: I get a lot of inspirations from different eras such as 20's, 70's, historical eras, ancient Rome and Greece costumes. I'm mostly looking for an inspiration that will  demonstrate and bring ethereal beauty in style.
For 'Bedroom Hymns' I have been pretty much obsessed with celebrities as Florence Welch, the Cockettes Cabaret, Virginia Woolf and the combination of these strong woman and the ancient Rome era, of beautiful draping gowns, sheer fabrics, glitter, gold shades and handmade embroideries.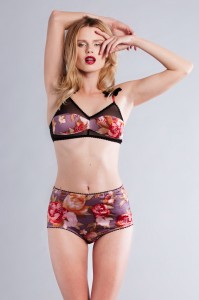 This upcoming line will feature a main collection and bridal range with a new key piece of loungewear that can be worn in  the bedroom or as outerwear too, as the Virginia sheer black maxi skirts, Elcee white chiffon frill camisoles and Flo camisole can be.
There will be more 1920's inspired jewel-studded lingerie pieces with pearls, diamante and equines for Glamour!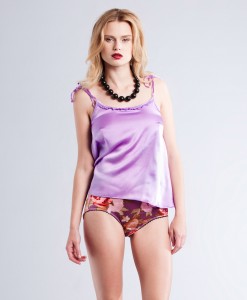 Holly:  One of my favorite things about La Lilouche is the sense of playfulness that your pieces have. How do you recreate that each season, and what inspires you to be playful?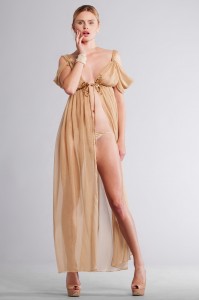 Liya: I think that there is something very beautiful about any woman who wears her  beautiful  lingerie or nightwear for intimate moments that make her feel more empowered, confident and free about herself to express her natural sexiness and inner beauty.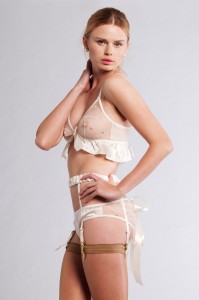 So that's what has always inspired me to bring a sense of playfulness to my designs as I believe we all have different personalities and sides and sometimes it's nice to bring more fun and show into your private moments. This is the reason why I create most of my lingerie so that my customers can find something that will be sexy, fun, elegant and bring a smile on their face !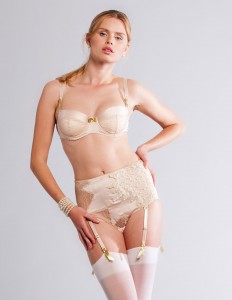 Holly: What do you do when you're not designing or sewing?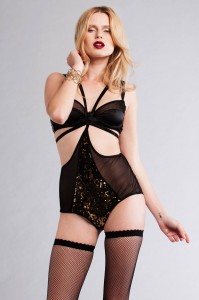 Liya: That's a good question! This past 2 years running a one woman show has taken a toll on my life with hardly any free time to do the things I loved to do, like spend time with my husband or family. I found myself disappearing into my other passion which is lingerie, designing, sewing and day dreaming.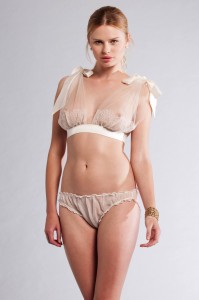 But I realized that I had lost a bit of myself and needed a balance. I am now managing my life with more free time, and when I finish my work hours I just  go to exercise, practice yoga which I love so much,  slurp chai tea while reading at book shops and in between  learn cooking!