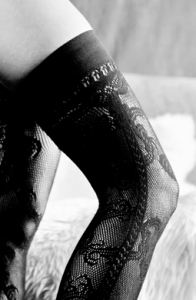 I've started a stockings collection in the past few months, but some of my favorite pairs come from the creative and sexy Erica M. Legwear. Their designs are innovative and their stockings are incredibly high quality. I'm a huge fan, so I was thrilled when Erica herself agreed to an interview here. On a personal note, their stockings are great for curvier women and they make a very wide size range. I highly recommend picking up a pair when you want a truly sexy stockings option.
Holly: What sets Erica M stockings apart from the rest of the luxury hosiery market? What hole in the market do you see yourself filling?
Erica: I wanted each style from the Autumn Winter 2012 collection to express a sense of versatility with the ability to be worn in various ways according to the desires of the wearer. I foundthat many luxury brands confine the designs to the upper thigh and below. By bringing the design all the way up to the top of each pair, there is always something hidden underneath the wearer's clothing. You can choose to hide the sexy design details underneath a demure day outfit or reveal the design when paired with a shorter flirty evening look. However, by the end of the night, there are still provocative design details that you can choose to reveal when fully disrobing. I wanted to intensify the coquettish nature of hosiery to the tenth degree by creating hidden details. By doing this, I hope that women will feel sexually empowered when wearing Erica M. hosiery, since they are in control of who they will reveal their sexy secret details to.
I feel like the void in the hosiery market place is that there aren't many patterned tights that are easy to wear with a plethora of outfits. By having the option of revealing the pattern or not with Erica M. hosiery, I feel you can wear each style with a variety of outfits. For example, the Nadia style can essentially be a opaque tight if you wear a knee length or longer dress or you can expose the pattern if you pair them with shorts or a shorter skirt. Essentially you get more uses out of one pair of Erica M. hosiery, than if you buy a crazy patterned pair that you can only seldomly wear. Versatility is very important to me.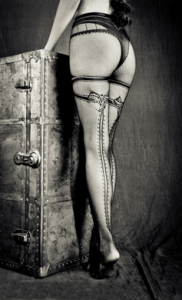 Holly: I love how you're producing tights and thigh high versions of all of your designs. What made you decide to service both types of consumers?
Erica: Each style directly relates to what you wear them with so I really kept the current clothing trends in mind when designing my Autumn Winter 2012 collection. There are so many unique silhouettes in clothing right now as well as certain trends that directly relate to your undergarments, I feel like women need more legwear options more than ever. For example, sheer clothing is really big right now I thought it would be cute to wear my thigh highs with a pair of hotpants underneath a sheer skirt. Also, I have so many distressed jeans that are strategically or unstrategically ripped, during the colder months I put my thigh highs underneath them. I ideally want to come up with a collection of hosiery where each have unique attributes while still being practical enough that you can wear them with many different outfits.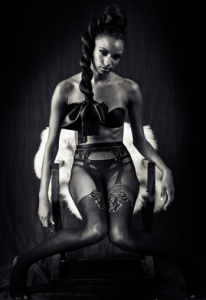 Holly: What's next for Erica M? What are your goals for this year and beyond?
Erica: I want to continue exploring different legwear styles that further strengthen my brand message of revealing sexy details at the wearer's discretion but also start offering different items that fit within the bodywear category. All new styles will continue to be easy to wear but include intricate and sexy details.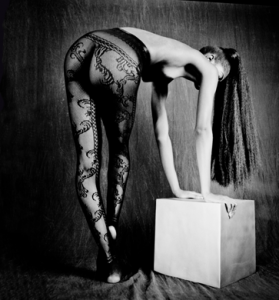 Erica M stockings can be found at select retailers (listed on their website), but they also are adding an online store to their site soon!