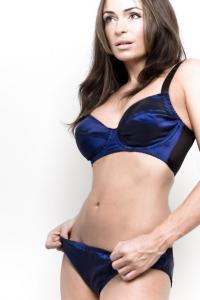 I'll admit, I was pretty heartbroken when Lilly Wiggler Lingerie stopped making her larger cup sizes. Lots of indie designers make full bust friendly pieces, but almost none of them make underwire bras. However, I think that Louise Ferdinand Lingerie may be just the person to fill that gap. Her made to measure line currently ranges from 28D to 38J! Sandra Palmer is the designer behind Louise Ferdinand Lingerie, and is a graduate of the legendary Contour Fashion program at DeMontfort University. I was lucky enough to get her to take some time to answer my questions about her new lingerie line earlier this week.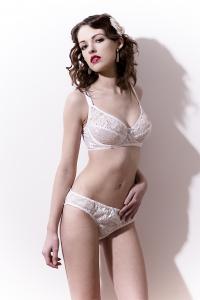 Holly:  Many lingerie companies are struggling to incorporate larger cup sizes and 28 back sizes, but you're offering both. What made you decide to work with such a large size range, and what are the challenges that come with those decisions?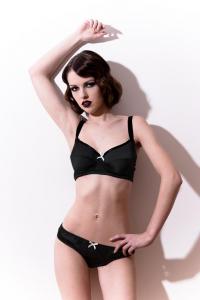 Sandra: I offer both the larger cup sizes and smaller backs because I am a fuller busted woman myself and rather selfishly wanted to design and make garments that I could wear! As well as that, I had a lot of requests from family and friends once I had finished my Contour Degree course at DeMontfort University, to produce bras in sizes that were fuller cupped so it made sense to do so.
I've had a lot of challenges and have had to trial a lot of different cups and patterns to get the right look and fit! I had to learn to grade my own patterns by hand which is another skill I have acquired on this journey.
To keep costs down at the present because I have such a huge size range I currently make to order.
Holly: Your Classics range presents a very elegant take on every day lingerie. What do you think women want in a basic lingerie set, and how do you incorporate those needs into your line?
Sandra: Women want a basic lingerie set that looks and fits well, is simple yet sexy and can be worn every day. My 'Classic' underwear garment is just that, it has classic shaping is chic and effortless. When I designed my 1st 'Classics' garment Angelina, I thought about; the cut, shaping, colour, feel of the fabrics and durability without any loss of style.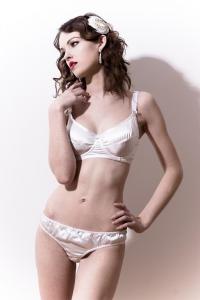 Holly:  What's next for you and your lingerie line? What has the response been to your current offerings?
Sandra: I have been very pleased with the positive response I have had toward the Louise Ferdinand Brand. The next stage is for me to build on my current collections. I am keeping my designs as a continuity line with the addition of a few key pieces such as suspenders and 1 or 2 new designs.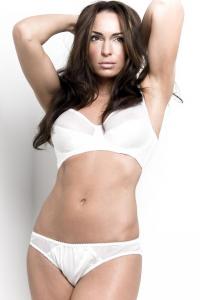 I would also like to expand on sales and be stocked in a few shops come next year so that the Louise Ferdinand can be seen by a wider audience.
Louise Ferdinand Lingerie can be purchased through the designer's website here or through Esty Lingerie.