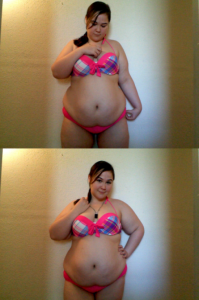 I'll admit that I personally dread walking past the magazine stands in the grocery store as summer approaches. I don't think of myself as a fat girl, but I'm pretty sure my breasts alone will keep me from ever looking like those women on the covers of magazines. I hate that this time of year seems to bring out the really judgmental side of people, so I was really thrilled to see this feature on xoJane getting so much press. 31 women sent in pictures of themselves wearing bikinis to prove that a beach body is any body that you currently have. I love the concept, but like many of these campaigns I've found the various reactions a little frustrating.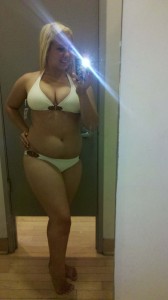 Lots of the women who submitted photos have been criticized for being "not fat". I've heard plus size models complain about this as well. They're too big for regular modeling, but too small for plus size campaigns. Other women are larger and working it, which seems to take people by surprise as well. The article has gotten so much press that it will be on the Today Show (at least according to a tweet from the lovely Tess Munster) which is simultaneously very cool and very depressing. I love that these photos are getting so much positive attention, but I also really wish that we lived in a world where women of various sizes wearing bikinis on the internet wasn't such a cultural shock. Despite everyone's efforts, we're clearly a long way from being okay with a wide range of body types as a society.
It's hard not to feel like people are still sorting these women into categories. The ones that conform to more conventional beauty standards "aren't really fat" and the ones that don't are left in the fat category. While I admire the women who sent in these photos tremendously, it's hard not to feel like fat is still a socially appropriate way of saying "unattractive" for many people. All of these women are gorgeous and confident, but if 31 size zero through six women put something like this together I don't think you'd have people putting them into groups in the same way.
Until we can separate weight, shape, size, and skin tone from societal standards of attractiveness we have a long way to go. Until then though, we've got brave women like this leading the way!