If you're one of those full busted women who dreams of wearing frilly and feminine stuff, this article is for you. Darlene of the wonderful Hourglassy blog and the famous Campbell and Kate white shirt has provided us with a guide for how to balance all those delicate pieces of clothing and jewelry that we love with our bust lines.
Some of you might be wondering, "What kind of a question is that?" Let me explain.
1. Until I learned how large necklaces can make a bust look smaller I gravitated toward single pearl earrings and fragile gold chains. Once it dawned on me that my chest was stealing all the attention, these pieces stayed in my jewelry box. But I love delicate things . . . is there a way to wear delicate things without overwhelming them?
2. Sweet sheer little items of clothing always look so pretty on the hanger and on flat-chested models, but they don't have the same effect on me. Astrid from Les Gros Bonnets was complaining about empire waists when she wrote this, but it perfectly expresses my dilemma: "Add in a scoop or square neckline and while our A cup sisters will look like a dainty medieval young lady, the result on an H+ cleavage will be more not-so-classy milkmaid." If I want the dainty effect, how do I get it?
The truth is some full-busted women don't have to try very hard. My friend, for instance, is a former ballet dancer who wears a 30F bra. Diamond solitaires in her ears and a locket at her throat show up just fine. If you're the type of full-busted woman whose small back makes people incredulous at your bra size, then you may not give "delicate" a second thought. You may need a safety pin to keep a blouse like the one above fastened, but you'll still carry the fragile look intended by the designer.
On the other hand, if you're medium to large-boned and people aren't at all surprised that you're a G cup or higher, then "delicate" may be something you've relegated to the sweet lacy things in your lingerie drawer. It doesn't have to be that way.
Let's start with jewelry.
If your heart is set on a single item that is tiny and/or transparent, try going plain everywhere else to give it as much attention as possible. That's the only way I can do justice to this necklace that my friend made. (For a better closeup of her amazing work, go to AudreyKerriganJewelry.com.)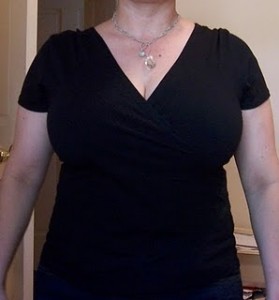 Another option: aggregate it. One small bracelet won't catch the eye, but several together can.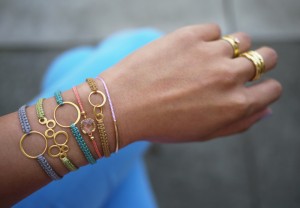 Or aggregate several delicate elements. This Spicy Bijoux necklace combines silk and glass. The overall effect isn't exactly delicate, but it satisfies my craving for fragile jewelry. Even though you see it with a plain black top here, it looks amazing with a classic white shirt.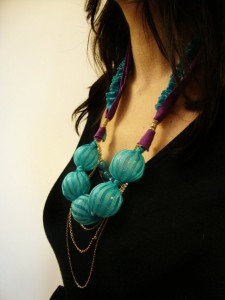 The bracelets and necklace above demonstrate another strategy: color. I love my friend Susan's work at The Jewelry Bar, but her long earrings (aggregating delicate elements) that end in semi-precious stones (color!) are my favorite. My pair from her always gets compliments, and that means people notice them!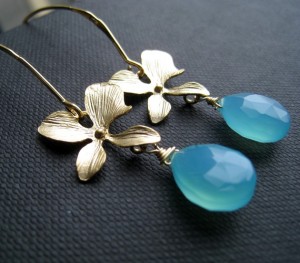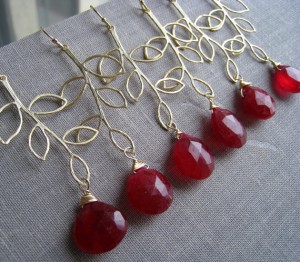 These suggestions barely begin to cover the subject of how to incorporate "delicate" into our look. Responses from other full-busted women whose opinion I asked show just how much more there is to consider:
The proportion of a specific body part. For instance, one woman has small wrists that look best with small watches and bracelets. (When she decides to go big there, she makes it an obvious fashion choice. For example, her current band for her iPod Nano "says 'I am a chunky watch band, what do you have to say about that?' instead of 'eh, I'm just badly proportioned for her wrists.'") Another woman has a long, then neck and narrow upper body, so a little silver chain and small pendant worked fine on her.
A tiny pendant with lots of filigree is delicate, but it's going to get lost against "huge tracts of land." On the other hand, a larger pendant with simple, clean lines and plenty of open space still has a delicate appearance, while being more noticeable on a larger chest.
When one woman wants to look delicate, she wears a very light dusting of shimmer powder.
Another woman's motto is: "If you want jewelry to be noticeable it has to be the most interesting piece you're wearing. Contrasting colors, interesting shapes, etc. Smaller pieces have to have something that draws the eye to them so the shape of the neckline or the chain on a necklace draw your eyes to the pendant."
Are you ready to experiment with "delicate"? We'd love to hear what works for you. And since we haven't even begun to cover how to create "delicate" with clothing, that's going to have to come in a Part 2!