Each day this week, we'll be talking about the wonders of made to measure lingerie. It's one of the most inclusive categories on lingerie on the market, but it's sadly one of the least discussed categories as well. Check back each day for a new post, and then our grand prize giveaway on Friday! We'll be giving away fantastic made to measure pieces from five popular lingerie designers. 
I'll start out by being honest: I buy lots of made to measure lingerie. If I'm not buying bras, I'm pretty much a made to measure customer 95% of the time. This is one of the reasons that I'm always amazed that people seem to equate made to measure lingerie with expensive luxury lingerie. Made to measure encompasses lots of price ranges, and there is definitely something out there for everyone. I'm a writer, and while I'm comfortable, I don't exactly have a trust fund's worth of disposable income kicking around to spend on my lingerie collection.
More designers are stepping up to the plate in the every day made to measure category, but one of my favorites is Knickerocker. Her panties run from $9.00 to $50.00, and are made for your measurements out of high quality cotton that will last forever. For every day underwear, I've pretty much stopped shopping anywhere else.
Take, for instance, these outspoken uterus design panties. They're $8.95, which is approximately what you'd spend at Target on a pair of panties. They're also unique, made for you, and will last a whole lot longer than the theoretical pair of Target panties will.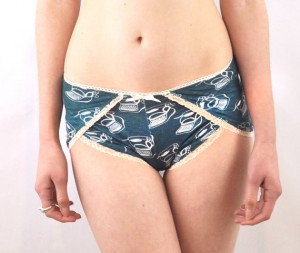 Many made to measure designers also will take customization requests, sometimes at no extra charge. I loved these typewriter panties for obvious reasons, but low rise panties and I have never been good friends. Nic happily made these in a high waisted version for me at no extra charge.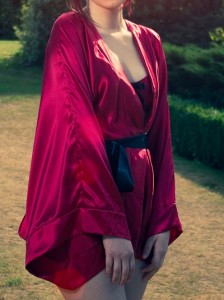 Even when you get into the luxury lingerie market, made to measure and other independent designers often create pieces that are superior to the stuff that major brands are putting out. You'll generally find higher quality fabric, workmanship, and attention to detail when you buy from an independent or a made to measure designer. Having lingerie made to your measurements also means that you are guaranteed to have a piece that fits all parts of your body, rather than just some parts. When I bought this kimono robe from La Lilouche, it was the most expensive piece of lingerie that I'd ever bought. I wanted to invest in a good silk basic piece that would last for years, but I also wanted it to fit perfectly. La Lilouche was able to make this to my measurements, which means that no matter how much weight I lose I'll always have a high quality robe that fits me (and my chest!). When I lose weight, I can just tie it tighter or wrap the tie around more than once. I've worn it almost every day for several months, and it still looks brand new.
If you like the look of these Knickerocker pieces, make sure to check back on Friday for the giveaway! Knickerocker has been sweet enough to offer a prize for it.
Do you think of made to measure lingerie as a luxury? What do you look for in a luxury lingerie purchase to make it worthwhile? Let me know by leaving a comment or by using the #iammadetomeasure hashtag on Twitter!