There's lots of debate about sizing in the lingerie world. Everyone has an opinion about what company should make what size range, and how companies should expand their size range to include a wider range of people.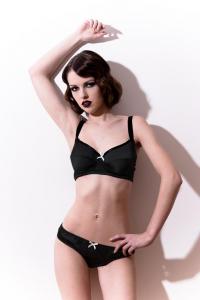 Made to measure lingerie has one size range: yours. 
Everyone has had the experience where they have to pass on a perfect piece of lingerie because one measurement doesn't fit them. By buying made to measure lingerie you can ensure that pieces are tailored to your measurements, even if they're non-standard. If your butt is bigger or flatter than usual or your hips are narrower, you don't need to pass on a made to measure piece that you love.
Even better, the range of what made to measure designers are doing is rapidly expanding. You can currently find made to measure loungewear, locally produced lingerie, eco-friendly lingerie, large cup and small back bras, corsets, latex lingerie, and a whole other host of lingerie items. As independent designers grow in popularity, the made to measure market will expand even further.
One of the big reasons that I'm such an advocate of made to measure lingerie is that it fits your body, rather than forcing you into something that is less than perfect. I know so many women who spend hours almost fitting into lingerie and then returning it for two more bras that don't quite fit right due to yet another sizing issue. It's easy to feel like your body just doesn't fit into anything. 
While I'm a fan of lots of larger lingerie companies, made to measure lingerie offers an option that takes the guesswork out of the equation. Lots of designers will work with you in detail locally or even via email to make sure that their lingerie works for your body. Made to measure lingerie designers also tend to be incredibly supportive of all shapes and sizes and know what works for a diverse range of people. Some even have backgrounds in non-standard sizing and use that to their advantage in their pieces.
Want to experience the wonders of made to measure lingerie for yourself? Check back on Friday for our giveaway! Rebecca Ansah (who made the amazing bodysuit pictured above) will be giving away a gorgeous made to measure piece as part of the fun.