I get lots of questions about how one gets started buying lingerie and my answer is pretty much always the same thing: find a good boutique and go get measured. If you don't live near a boutique, The Sophisticated Pair has an amazingly accurate bra calculator and is a good place to start. Our newest contributor, Kelsey, went to a boutique and tried the process out for herself.
One of the most important aspects of shopping for lingerie or just an every day bra is knowing which size to get.  A year or so ago I sloppily threw a measuring tape around myself and came up with the size 34B.  I never questioned it.  That is until I decided to take my first adventure to a lingerie store other than Victoria's Secret.  Bare Essentials, in Wilmington, Delaware is a local boutique which specializes in professional bra fitting.  I always have considered myself to have a small chest, so trying anything above a B cup was simply out of the question.  I was a little scared of what my actual size was, in addition to some recent weight loss I knew that I had to be smaller. Upon entering the boutique, I spoke to the owner, Liz who took me right to a fitting room to get all sized up.
And now, the moment of truth….28D??
No…
Before I could come to terms with that, Liz was already rushing off to retrieve a number of different bras for me to try.  Padded, push-ups, lightly lined, sheer, corsets…Bare Essentials made me feel like a kid in a candy shop.  Even better, after I tried on the first bra, I realized I had been doing it all wrong before–if there was a bra equivalent of Cinderella's glass slipper, this was it.  I'll share with you two of my favorites, and one more that I walked out being the proud owner of.
First, to give you an idea of what I was dealing with before, this is me in my 34B nude, plain, ugly bra (which I now hate).
The first bra Liz brought me was from Harlequin by Panache, a lightly padded white silk, plunge bra with some bow detailing (fun fact: if there's one thing I love more than lace, it's bows).
Already, from the fit I could tell that this bra loved me just as much as I loved it.  There was no weird spillage out the sides, the band wasn't too loose around my torso, everything was tucked in nice and neatly, and the adorable look didn't hurt either.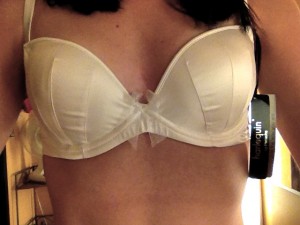 Another one I loved was a push up from Pizzo Leavers with lace and bows and rhinestone details.  Too good to be true.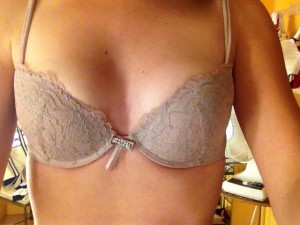 Finally, I tried on a lace bustier in red from b.tempt'd.  After help from Liz fastening all the hooks in the back (no, you cannot put it on over your head like a t-shirt), it was love at first sight.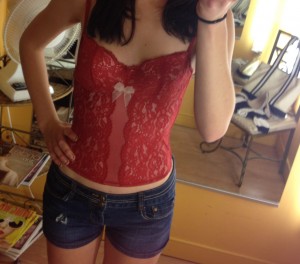 It fit like a glove and besides supporting my chest, it accomplished the second most important task of lingerie, it gave me confidence, which was all I needed to tell me that this was a purchase I needed to make.
If I were a superhero, this would be my uniform, wearing it under my clothes everyday, prepared to bare all when I need to rescue another helpless woman from wearing the wrong bra size. Okay, maybe I'm getting a little carried away here, but my point is that something as simple as knowing your size can do wonders for your figure and your confidence.
Being somebody who had only browsed online, and read the blogs of high end lingerie fashion, I look back on my first in-person endeavor and measurement as something that should have happened much earlier.  But better late than never right?


While you're here, why don't you sign up to win some gorgeous made to measure lingerie?