Erinn of The Bare Intimates and I have a definite mutal admiration society going on. I love her approach to lingerie and graphics and her Etsy posts are one of my favorite. I was also thrilled to see that she was mentioned in The Lingerie Addict's 5 Lingerie Blogs to Follow In 2012 article along with me! 
Erinn is the expert at finding great lingerie on Etsy, which is full of amazing independent designers. She was nice enough do a guest post today to help us sort out the best bits for our own lingerie drawers. 
Confession: I spend way too much time on Etsy. Probably way more than the average person and certainly too much time for my own good. I just can't get enough of the hand made world and I love wearing, decorating and using hand made goods in my every day life. When I started blogging about lingerie, I knew I absolutely wanted to dive in to the world of Etsy Lingerie…and let me tell you – it does not disappoint!
From panties to bras and corsets to chemises, you can find it all on Etsy. Made to measure pieces flood their database, each with delicate designs and exquisite craftsmanship. I adore the summer time collections the most – so many flowing, printed fabrics and crisp designs. I'm rounding up a few of my favorites that I can't get enough of these past few weeks.
1 // Pale Rose Cotton Ruffle Bra – I absolutely adore this bra. Hand Crocheted from a durable cotton yarn, this could even double as a bikini top because it's pool and ocean safe. The weaving is tight enough to provide just the right amount of coverage.
2 // Lolita Flowers Bra – I can't get enough of this bra this summer. The pattern is perfection, and you'll get all the coverage and boost you need with the underwired support.
3 // Floral Underwire Bra – this bra is a girly girl's dream. Made from flower printed silk satin and French leavers lace, the bright pops of coral and orange are my favorite.
4 // Tea Rose Cotton Fringe Bra – Fringe is on my good side this year. I love that you can sport this around the house, to a summer music festival or to a beachside bonfire. Unleash your inner flower child and enjoy the summer!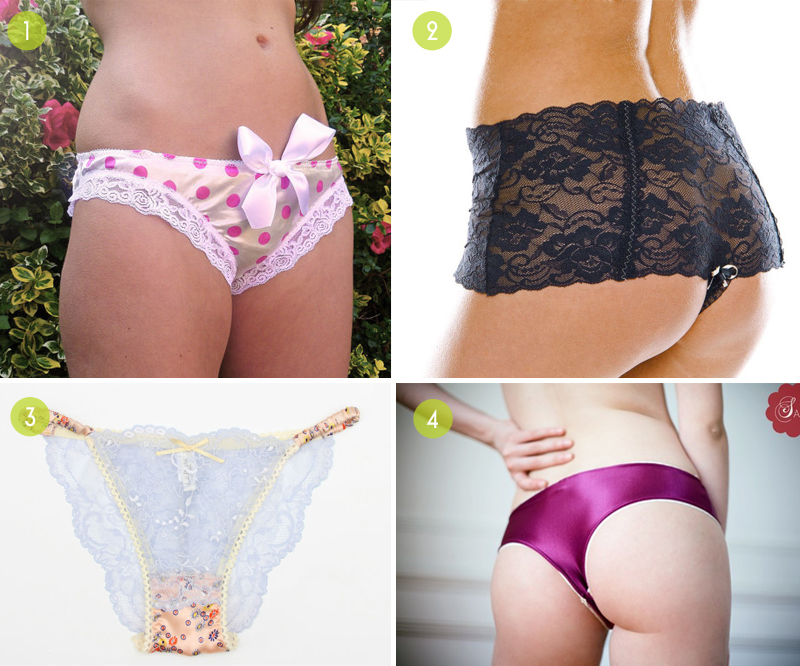 1 // Polka Dot Panties – These magenta polka dots sold me instantly, and then when the giant satin bow in the front AND the scalloped lace edges caught my eye…well, let's just say they were instantly ordered.
2 // High Rise Retro Lace Panties – These navy high waisted panties are some of my favorite. Classic lace combined with Swarovski crystals – talk about summer elegance!
3 // Floral Bikini Panty – I love these panties. I can't decide what I love most about them – the floral printed silk satin and French leavers lace combination, or the soft lavender lace and yellow scalloped edges.
4 // Satin Elastic Panties – These cheeky panties are perfection from the color to the cut. Wouldn't you agree?
1 // Cotton 'Coquette' Liberty Print Babydoll & Knickers Set – This set just screams summer to me. I adore liberty prints and this is so fresh and airy that it would be perfect for a Florida summer.
2 // Wedding Night Lingerie Set – This organza nightgown and bolero has been on my wish list for ages – and I'm already married! It's so romantic with its European details and textures.
3 // Organic Cotton Underwire Bra and Panties – This set needs to get in my closest stat! Made from Organic cotton and French Leavers lace, this modern bra and panties looks like something you'd find in a French boutique.
4 // Maria Lace Set – This seductive set would be just darling on a vintage summer bride, no? I love the detailing in the top and the ruffled hem on the bottoms.
5 // White Grecian Nightgown – If you could see my every day wardrobe, you'd instantly realize it's filled with Grecian inspired dresses. I love draped fabrics and loose fitting but still flattering patterns. This Grecian nightgown is so, so pretty.
6 // Linen Bralette and Shorts – This preppy, linen set is so perfect for us Southern ladies. It's cool, crisp and comfy – and really what more do you need to get through these Southern Summers?
So much pretty, right? I admire Etsy Lingerie designers for their independence, artsy inspirations and dedication to their craft. Do you have any favorite pieces?
Xoxo,
Erinn