Anyone who knows me also knows that I can't say enough good things about the Polish bra brands that are gaining popularity in the US recently. I've now tried both Ewa Michalak and Kris Line and would love to try Comexim as well once I figure out how to!
I've now been through several sets of Ewa Michalak bras at several different sizes, which is why I haven't reviewed any until now. It seems like just as I get settled, I drop a band size and have to reorder. However, I've seen lots of people talking about these two bras so it seemed like a double review was in order.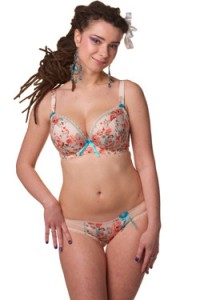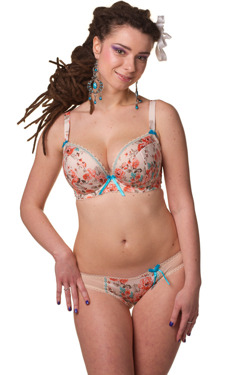 This bra contains some of my favorite elements: elegant florals, turquoise and great uplift. I'll admit to being fairly biased and buying almost all PL styles from Ewa these days. There really just aren't any other bras like them on the market. The straps on this are thinner than on some Ewas but still provide plenty of support. I tend to go up a cup size for plunges and up a band size for Ewa, so I bought this bra in a 34J (75J). I've had it for more than a month now and it has held up incredibly well considering that I'm wearing it multiple days of the week. I bought the thong to go with it and again I'm impressed that Ewa Michalak's matching panties seem to great the same great design attention that their bras do. I love the asymetrical bow detail on the thong that goes with this set.
This band has a stretchier band than some Ewa bras, which means between band stretch and dieting I went from the loosest setting to the tightest fairly quickly. If I bought another one of these, I might buy my usual band size due to the stretch.
For more reviews of the Lato, check out Curvy Wordy's blog!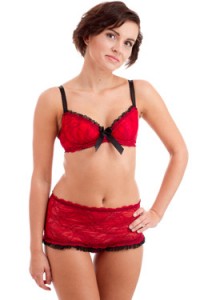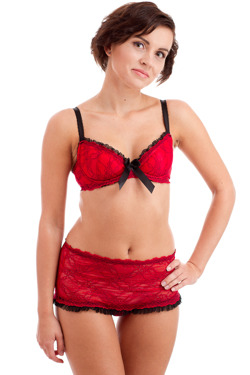 This may truly be the sexiest and most supportive bra that I've ever had. The lacy overlay on the bra is wonderfully detailed and the giant bows are fantastic. I bought this in a 34J (75J) as well, but the back hasn't stretched nearly as much as the Lato. This bra was a little larger in the cup than the Lato, but I've found that all Ewa Michalak bras stretch a bit in the cups once you wear them a few times. I'm extra impressed with the ruffle detailing on this bra. It's prominent and sexy without showing through your clothes which makes this a very wearable bra for me.
I bought the thong to go with this and it's just as comfortable as all of the other Ewa Michalak thongs. I'm getting close to having gone through six or seven Ewa sets at this point and they've all been great. In terms of price, both of these bras and thongs with shipping cost me a little over $100. It's hard to resist ordering tons of bras when the price and the quality is so good. I'm almost into a 30 band size, so I'm looking forward to trying out some of Ewa's newest designs when she comes out with them!