Looking at, and trying on lingerie all day can definitely start to affect what I wear.  Sometimes I come across a bra and panty set, or a bustier that is just so adorable I want to wear it out of the house.  Unfortunately, those types of decisions are generally frowned upon in society.  The good news is that there are increasingly more ways to work your underwear into becoming part of your outerwear, in an acceptable fashion.
But what I've found, for myself at least, is that I tend to wear garments strictly as they're modeled.  I spot a lace camisole and the model is braless and lounging with a feather boa? I'll be doing the same.  Or that floral kimono robe that's being shown with sky-high heels and the belt loosely undone?  You can bet I'll be parading around my room as if I'm the actual model.  It isn't until I fall so in love with a garment that I just have to let it leave the house and be a main character in my outfit, that I have my eureka! moment and everything falls into place–appropriately.
Real quick, lets just do a little review of what it is I'm talking about…
If you do this in your lace bed dress, stay inside:
Or try this street friendly version!
One of the easiest ways to start incorporating your items in your everyday outerwear is using a body suit and a skirt.  Just your body and sheer lace is totally sexy in the bedroom, but even the most liberal of cities might blush at this as outerwear.  Throw on a bra, and layer a white camisole underneath, then top it off with a high waisted pencil skirt, or even high waisted shorts.  And I think that a nicely fitted blazer never hurts any outfit.  Love love love this piece from Lola Haze.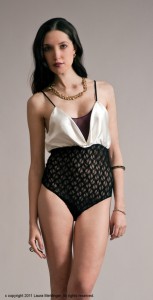 Camisoles are another great piece to transition from night to day.  Often modeled without a bra and with matching panties, this is an easy fix.  Just grab a bra and throw pants or a skirt on top of those matching panties and you're street approved. Couldn't decide which I liked better from Amuse Bouche–the floral lace, floral appliqués, or the hair.
This is another camisole from Sonata Lingerie which seems more like a blouse to me, but it would be adorable wherever and however you choose to wear it–with jeans, tucked into a skirt, under a blazer, or just with the matching panties in your own home!
Kimonos and bed jackets are current trends that you can show off in multiple fashions.  If you need a little refresher on the trend click here.  I use them the same way I would use a sweater or a tunic–throw together to make leggings/jeans and a tank top look super fancy when you really didn't have to try that hard at all 🙂  These are two of my favorites, a bed jacket from Brown Belly (found at Etsy), and a wrap that can double as a dress from Between the Sheets.
Now that I'm mastering the transition from boudoir to public areas, I'll have just another excuse to expand my lingerie wardrobe! What's your favorite way to incorporate your lingerie pieces into everyday outfits?