It's been 100 degrees here for the last few weeks, which means summer is officially here to stay. Women here don't really wear stockings as much as they do in other climates, but I'm bucking the trend and continuing to search for pretty stockings that I also won't sweat to death in. I grew up in a pretty traditional family, which meant that you were never fully dressed for work or for an evening out without a pair of stockings.
The stockings on this list cover a range of styles and price points. There are literally thousands of stockings out there in the world and I believe that everyone should try a few good pairs before they develop a strong opinion regarding how stockings fit into their wardrobe. I always hated being shoved into them as a child but now I love them.
Frangi Pangi Sheer Pantyhose: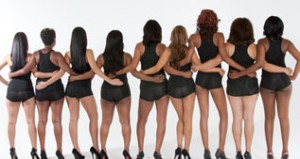 For the sake of full disclosure, Frangi Pangi is a client of mine. I'm also a huge fan of their sheer stockings, as they're the only company that makes one light enough for my ghost pale legs. Most companies only make three or four colors of sheer stocking, but Frangi Pangi makes eleven. If you're looking for nude sheers that look really natural, these are the ones to check out. Even better, they guarantee four wears out of each pair of stockings.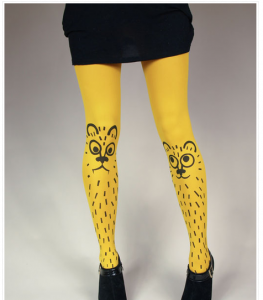 These were a splurge purchase for me a few months ago and now I wear them all the time. They're great for adding attitude to a basic outfit and are incredibly high quality. For more quirky yet high fashion designs, check out Les Queues de Sardines.
Flamingo with Horns Tights: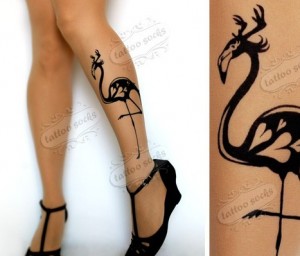 I call these my "Alice in Wonderland" stockings. I wear them when I need to look a little more buttoned down but still show my creative side. I have several different pairs by Tattoo  Socks and love every one of them. As a bonus, they're cheap and have held up wonderfully. If garter belts aren't your thing, they also carry a wide range of pantyhose in the same range of designs.
Kay Marel Ice Cream Colors Stockings: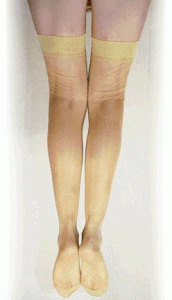 I found out about Kay Marel through The Lingerie Addict and they're next on my purchase list. These are classic 1950's full fashioned stockings in a full range of ice cream colors. I forsee myself picking up a yellow and a blue pair in the near future. A word to the wise: Treacle says that these won't work if you're over 5'4″, so for once it's to your advantage to be short!
ASOS Love Tattoo Tights: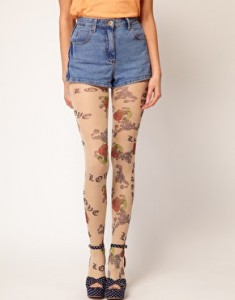 Tattoo inspired stuff is trending again, and these stockings are a cute and cheap way to get in on it. I've actually been incredibly impressed with the quality of ASOS stockings and had several pairs last an amazingly long time. These are nice and colorful for summer, but will also see you through the tattoo print explosion that happens when the new collections are released in August.
Floral Pattern Knee Highs: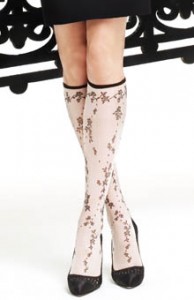 I haven't figured out how to wear knee high stockings without looking like I'm eight, but lots of other women look great in them. This pair by Philippe Matignon is tempting me to try again. They're sheer and summery, and give you that nice sophisticated look without all the coverage. If anyone has any tips on how to incorporate knee highs into your outfits, please leave them in the comments!
We Love Colors Thigh Highs: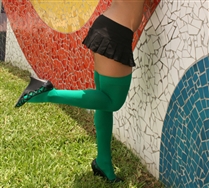 Sometimes you just want a pair of stockings as the perfect accent color for one outfit, or one boldly colored pair of stockings for a night out. We Love Colors makes 51 colors of stockings and thigh highs, and they're all $8.00. Take advantage of summer by adding some fun color splashes to your wardrobe without breaking your bank this way.