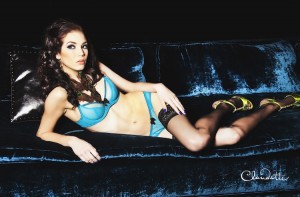 As someone who is working on losing weight, I hear a lot about it from other people. Lots of people tell me I look skinnier and then go on to tell me about how much weight they lost. Some women tell me I shouldn't be losing weight at all because I'm just giving into some male generated notion of how women should look. Some women have told me about how they've lost incredible amounts of weight and still feel fat in their size six dresses.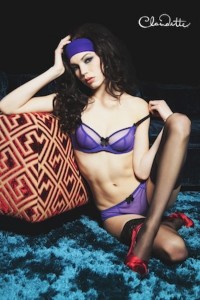 All of this says to me that whether you're losing weight or not, there is a value in loving the body you have currently.  It's easy to spot our flaws, but much harder to find things we really love about our current bodies. It doesn't help that many companies make bras for one size range or another, instead of a wide range. If you're in-between categories, or just like the look of one company but can't fit into their bras then it's easy to feel like you just don't fit in.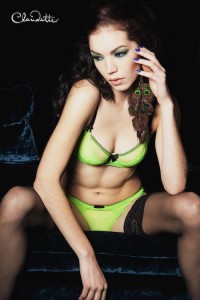 This is one of the many reasons I love Claudette. Their bras currently come in band sizes 30 to 38 (with 28 bands in Spring 2013!), and their cup sizes range from A through G. They're promising to expand up to a K cup in Fall 2013 as well.  Instead of forcing women into categories by size, they're helping spread the message that you can feel sexy (and wear a sheer mesh neon colored bra!) at any size.
I started chatting with the Claudette team when they had just launched the Neon Dessous line and you can now find it in Bare Necessities and tons of other online boutiques like Faire Frou Frou. They're also the nicest crew of people you'll ever meet and they're working hard to keep up with demand for a wider range of sizes. As soon as they go above a G cup, I intend to pick up the whole line. I loved my pink dessous when I was a smaller size!
If you do fit into their size range you're in luck today, as Claudette has been nice enough to partner with me to give away their new Neon Dessous bra in turquoise! If you're in the 30A to 38G size range then there is a version of this bra to fit you.
To Enter:
1. "Like" Love Claudette on Facebook. 
2. Enter your information into the Rafflecopter widget below and leave a comment saying what the best feature of your body is. Nothing aspirational or judgmental, just what your favorite feature of your body today is.