I first met Darcy of Love and Dream last year at Curve NY where I instantly fell in love with her simple, luxurious and chic collection of loungewear. I also had one of the most surreal professional moments I've ever had, as we struggled to figure out how we knew each other. After finally figuring out it must have been through Twitter, a light dawned and Darcy figured it out. "You're Didy's mom!", she exclaimed. This is the perfect example of social media making connections and working in all the ways you never expected it to: when you get famous, it's for your dog.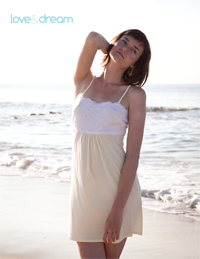 Anyway, I was thrilled when Darcy sent over a quick preview from her newest collection. Love and Dream is branching out into some full bust friendly loungewear pieces, which I am really excited about.
Here is what Darcy has to say about it: "It has an extra wide lace bust so on a busty girl it actually fits, and on a non busty girl it looks like a super stylish long line.  It flatters both due to the shaping at the side seam that avoids that "monoboob" look.  Also, the straps adjust."
Love and Dream is one of those brands that sells based on material and texture and their luxury fabrics are impossibly soft. If you're a loungewear junkie, they're definitely worth checking out.