Sometimes great new discoveries are as easy as keeping up with your email inbox. I first heard of Curveturiere Intimates when their press event invite showed up in my email and was immediately intrigued by the pictures.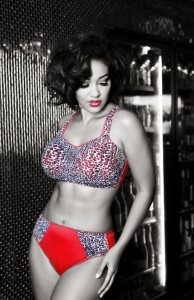 Luckily, owners Kelly Moore and Mary Pifko were nice enough to spend an hour on the phone with me and were very generous with details about the soon to be launched line. First, the basics: Band sizes will range from 32 to 50, cups sizes will range from D-K and other pieces will range from XS to 3X. Kelly and Mary have already gotten requests for 28 bands and are hoping to rapidly incorporate them into the new line.
Curveturiere Intimates will offer a variety of bra and underwear styles, along with supportive sleepwear options. A large portion of their bras will be wire-free and the line will also include some more unusual offerings like the cami-bra shown above. Customers will be able to mix different bras and underwear offerings to make complete matching sets that work with their personal style. The line will be focused on creating lingerie that is both functional and that takes cues from the fashion world.
Mary and Kelly decided to collaborate on a lingerie line after working a series of jobs in the fashion and lingerie world. Like many women who start great lingerie lines, they didn't feel like there was anything out there that reflected their style in their size range. The pair met while they were originally buyers for HSN. After that, they moved onto jobs that focused on the manufacturing size of the industry. Eventually they felt ready to fill a hole that they saw in the market.
Price points will run along the same lines as brands like Parfait by Affinitas, which means that the line will be both pretty and affordable. This will be great news for those of us that love the look of the more affordable D through G lines but can't fit into them! Mary and Kelly emphasized to me that they don't believe that women shouldn't have to pay huge amounts of money for pretty lingerie that fits properly. They also acknowledge that full busted women frequently do pay more for lingerie as a result of falling into a non-standard size range.
The official launch happens in August and pieces will be available in boutiques sometime in December. Make sure to like the Curveturiere Intimates page on Facebook to keep up with all the news! If you're going to Curve NV, they'll be showcasing there as well.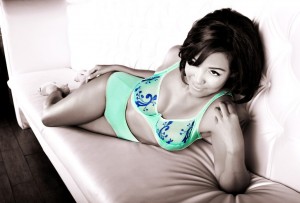 As a lingerie reviewer, consumer and columnist, I'm really excited about this line. Lots of the new lines that have been released lately have a similar look and Curveturiere Intimates is going for something genuinely different. As much as I love Curvy Kate and the lines that imitate that look, it's nice to see someone presenting a new look with innovative options. I'm also excited about having a variety of wire-free options. More and more women are looking for wireless lounge and sleep bras and so far the market hasn't measured up. I'm hoping that Curveturiere will be the solution that some of us have been desperately searching for. Add in the reasonable price points and I'm sold! I'll definitely be reviewing several pieces of this line as soon as I can get my hands on them.
What do you think of Curveturiere Intimates so far? Do you like the look? Are you excited about wire-free bras and cami-bras?