I've been swimming several times in the past few weeks and this comic almost actually happened to me. I'm bizarrely thrilled to see that other people also worry about having fish accidentally trapped in their cleavage as well.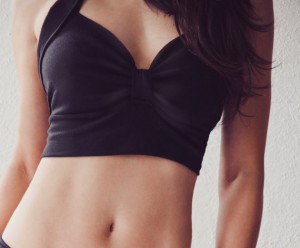 This week has been one of those slow and hot summer weeks where it's hard to get anything done. All of this lazing around indoors means that I've started to think wistfully about sleep and lounge bras, which I know lots of other bloggers are looking for as well. I ran across this option on Etsy earlier this week and I wonder how it would work for larger cup sizes. I contacted the store owner about it, but didn't get much information from her. Apparently she's booked for custom work until next month! I do love that it's quite pretty: so many sleep bras are pointy and ugly. My only gripe is the price. $70 for a non-returnable bra that may not work seems like a big gamble. Alternatively, I keep looking at Rhonda Shear's Pin Up Leisure Bra line. It's carried by a ton of reputable places and gets good reviews. I just don't know how it works for H-K cups.  Has anyone else tried anything like this?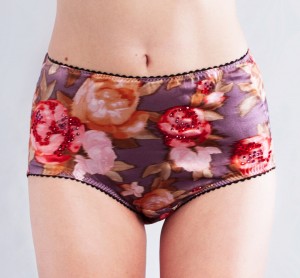 "Bedroom Hymns" is available this week from La Lilouche! I've been waiting for this collection forever and will be definitely picking up some of it. I've fallen in love with these high waisted briefs and must have them. I love that La Lilouche is offering thongs, bikini panties and high waisted briefs this season as options. I also love the subtle beading on these. I'm a total sucker for detail work on things like this. My only regret is that I won't have a perfectly matching bra to pair them with, but I suppose we can't have everything we want.
There were a bunch of interesting articles on bra and clothing related things this week, mostly on Jezebel. Here you can read about twin sisters who both decided to have breast reductions and why, and here is another article about how scientists have found some genes that may determine breast size (and your risk of getting breast cancer). In this article, the author muses on why she can't seem to get rid of all of the clothing that doesn't flatter her or fit properly. This week the Jezebel commenters have taught me that many people don't understand how women with larger breast can move or stand up without falling over, which both offends me and cracks me up. I'm also freaked out by how many of the commentators express an interest in breast reduction surgery. I'm not knocking anyone's personal choices, but I'm alarmed that some women see it as the only option. A bra that fits well can fix a lot of issues and your cup size can always creep back up after surgery anyway.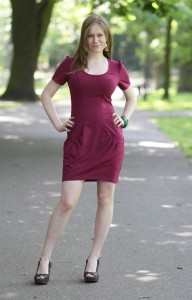 Urkye is another new full bust friendly clothing company that has just started up! They have extremely cute stuff at amazingly low prices, so I may have to give them a try. Sadly, this dress is mostly sold out in my size.
This rant about bra fitting argues that the whole small band size/large cup size market is basically vanity sizing to make women feel better about themselves. I have nothing constructive to say except that I think there are a lot of 28J women out there who would dispute this statement.
Lastly, a quick business note! I try not to mix fun lingerie stuff and the lingerie copywriting stuff much, but in the next weeks I will be running a series of blogs on copywriting and lingerie marketing. I'll also be opening up some new retainer client spots at this time, which haven't been available since April. Retainer clients get individually designed packages, discounts and first priority on my time in exchange for scheduling a set amount of work each month.  I was going to wait to talk about it, but I've had a few serious enquiries already and if people have been lurking around waiting I'd rather have them get first dibs. If you've been thinking about having someone do regular marketing tasks for you who knows lingerie and fashion, check out my services page and shoot me an email. 
We're looking at more heat with no rain in sight this weekend, so say hi in the comments and give me your suggestions to help beat the heat!