I was trawling the internet for dresses this weekend stumbled across some dresses that I really loved. Here's the first one: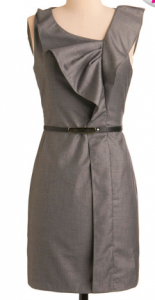 And this was the second one: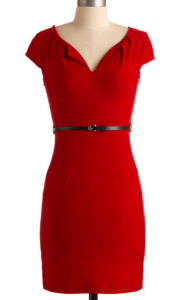 The full bust fashion faux pas of the first dress is pretty obvious: the giant ruffle on the chest is a traditional no go. The second dress was full of women telling other women not to buy it if they weren't tall and skinny; they were concerned that it didn't hide the fact that they had more fat on their stomach than some women.
All of this got me thinking about fashion rules for full busted women and why we care so much about them. The ruffle thing is obvious. It comes from the more general rule that you shouldn't wear anything that draws attention to your bust line, which when you think about it seems truly ridiculous. If you're a full busted woman, your breasts are going to be front and center in pretty much anything you wear. You can't camouflage them by avoiding ruffles and chest detailing for the rest of your life.
The second dress touches on a larger issue. Full busted and plus size women are encouraged to wear baggier clothes to hide any "figure flaws". Again, this seems totally silly. Putting on a shirt that imitates a tent won't make anyone think you're a 90 pound woman. Instead, it will just make people think that you're even larger than you are!
Fashion has rules for women of every shape and size and we all spend lots of time eliminating clothing based on them. It also helps us mentally divide ourselves into judgmental categories. Plus size women eliminate all dresses with horizontal stripes while smaller busted women load up on ruffles and avoid dresses that show cleavage. Are we missing out on some great clothes by following the accepted fashion rules?
As I thought about it, I realized that some of my favorite pieces do break those rules. One of my favorite and most flattering work shirts is bright teal and has ruffles all down the front. When I tuck it into a plain colored pencil skirt I look 5 pounds slimmer. Almost all of my clothes hug my figure. I always dress appropriately for the situation but I also avoid baggy clothes at all costs. I once saw myself in a picture wearing a baggy sweatshirt and jeans and I literally looked about 250 pounds. Since then, I've never gone back. I've also come to terms with my figure. Even if I lose weight, my breasts aren't going anywhere. Since you'd have to be blind to not notice them, I've never bothered to try and hide them or make them look smaller.  
Today I'd love it if you'd comment and tell me what fashion rules you break on a regular basis and why. And maybe I'll get brave and try out that dress with the ruffle on it.