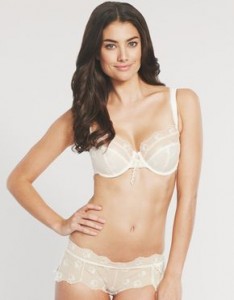 My lone white bra died last week. Between weight loss, months of serious wear and a slight accident with blue dye it is definitely beyond resurrection. This means I have to find a new white bra, because it's hard to live without at least one.
I generally stock my lingerie drawers with colorful pieces, so I have trouble finding white or nude bras that I love. Luckily, the Panache Eliza looks a lot like the Panache confetti bodysuit I have and love! It goes up to a K cup, which is great. My only issue is my normal one: will the Panache wires work for me? I get along great with Cleo bras, but regular Panache wires tend to be hit or miss in terms of length for me. I'm tempted to order one and give it a try.
What white bra can you not live without?