Finding great dresses online can be both complicated and annoying if you're full busted. Dresses can be too loose around the middle while refusing to zip over your chest, or a perfectly conservative dress can become a minidress when your bra size is added into the equation. I'm also lazy and hate making returns, since it requires a special trip to the post office that I never seem to have time for. Luckily, there are lots of places you can shop online that are great sources for full busted fashion once you know the system. Today, we're going to talk about one of my favorite places to buy things: Modcloth.
1. Don't assume you know your size. 
If you're buying from ASOS, the sizes are pretty standard. Modcloth is the total opposite: it has some of the most variable sizing that I've ever come across. Luckily, this actually works in your favor. Fitting into a variety of sizes means that you have more dress options and Modcloth has a great system that lets you sort by multiple sizes. To start, pick three your standard size, the size below it and the size above it. I'm normally an XL, so I generally sort by L, XL, and 1X. If you don't know what your standard size is, they provide a handy dandy size chart which shows you what size you should start with. If you're looking at clothing within a certain price range, you can also sort by price along with size.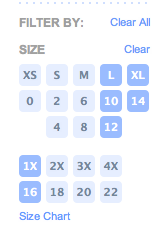 2. Read the details tab and look for clothing made out of stretch materials.
Modcloth gives you tons of details about each item, including where an item runs large or small. It will also give you important information about length and dress linings, which can be key. Some items are even marked "runs large at the bust", which is generally a dead giveaway that a dress will work for your full busted figure.
For instance, I ran across this dress the other day and felt like it had my name on it.

Except…the details tab told me it wouldn't right for me. Check it out:
From the information they have up, it's clear that it won't have enough stretch for me at the bust. That's one more dress return I don't have to make and I can move on to another item.
3. Read the reviews carefully.
Most buying mistakes can actually be avoided by reading the reviews left by other buyers carefully. Modcloth has a great system where you can enter lots of details, right down to your bra size and exact measurements. Lots of people also post photos, which can be really helpful.
For instance, I bought these dresses in my most recent order. Both fit me perfectly in radically different sizes.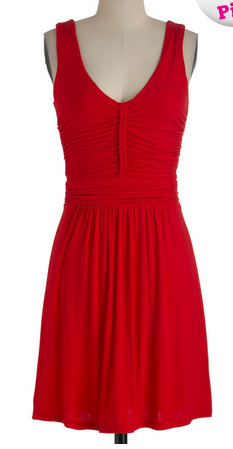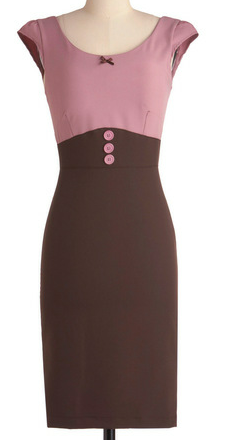 Both dresses are made of stretch materials, but the red one is a size L and the pink and brown one is a 1X. I wouldn't have known what to order without the reviews.
The red Made In The Braid dress had several reviews from women who listed their bras sizes as F and G. That along with the fabric content information helped me decide that I could fit into a L comfortably. Conversely, the Raspberry Mocha dress had tons of comments that recommended sizing up at least one size and sometimes two. I ended up going with the 1X as that was about where women who had bought the dress in my  normal size and described themselves as busty said it had fit them. The sizing was perfect.
4. Check back often.
Modcloth adds new items all the time, but things also sell out fast. If you like something and think it will fit your extra curvy figure, you should snap it up as soon as you can. This is another reason to try and get it right the first time, as I've heard of things being sold out by the time it takes a few days for your return to be processed. Be safe and use the tools they give you to find the right size the first time.
Are you a Modcloth fan too? Do you have any great tips for buying full bust clothing online? I'd love to hear them!