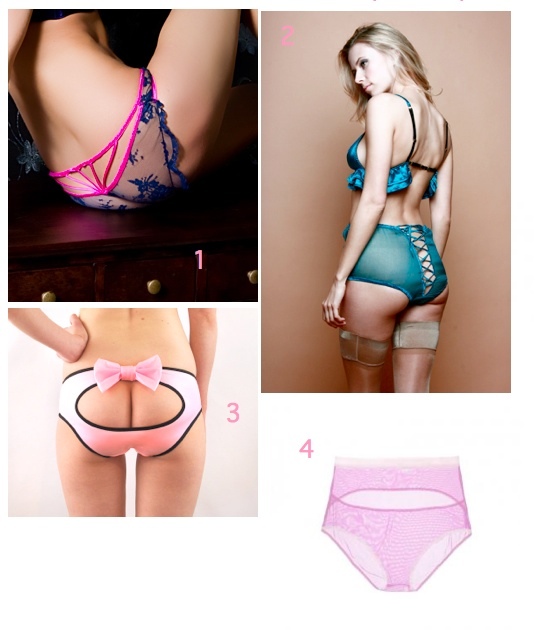 I've been contemplating ouvert panties (otherwise known as butt cleavage panties) for awhile but have yet to purchase any. Maybe it's because my butt is flat as a pancake which is probably not ideal for this trend, or I just don't know if I'd really wear them in real life. Still, I've been tempted all season and may take the plunge soon to give the whole thing a try.
Having said all of that, I think that the ouvert knicker has really come a long way. You used to only see the cage back variety but now designers are using it as a way to play with new shapes and colors. I also think this is a great trend for women with serious curves: these types of panties really accent the right areas and draw your eye away from others you may not love so much.
If want to try this trend out, here are four great pieces to start with.
1. Elektra Lace Ribbon Knicker by Sonata Lingerie
2. Jolene Silk Chiffon Panties by La Lilouche
3. Panties with Cut Out and Bow by Knickerocker
4. Airplay Ouvert Hi-Waist Knicker in Orchid by Between the Sheets Lingerie
How do you feel about ouvert knickers? Are you in love with them or not so much? Have you tried them?