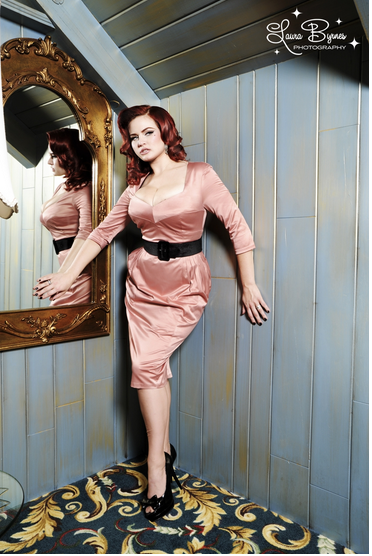 I really never go to anything formal and I already own an Ava cocktail dress from this same company, which is pretty much the only reason I haven't snapped this dress up. If you do go to formal things or have an occasion coming up, this Deadly Dames dress is a great choice. Even better, it's on sale this week for a seriously reduced price.
I'm a huge fan of Pinup Girl Clothing's dresses in general and they're my go to dress company for cocktail dress occasions. Their stuff is a little pricer than some places but they make up for it with great quality and fit. They also provide amazingly detailed size charts so you don't have to guess about fit at all. Most of their offerings are really full bust friendly, which is partly due to their vintage cuts and partly due to their gorgeous stretch fabrics. I also appreciate that lots of their dresses are designed with real backs and sleeves so you can wear a regular bra under them. If you're in a the larger end of large cup sizes, finding a strapless bra that works can be virtually impossible.
Are you a fan of Pinup Girl Clothing? What are your best dress up tips for full busted women?