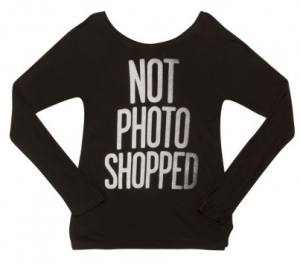 I've seen these shirts popping up on various fashion blogger sites recently, but I hadn't realized until last week that it was part of a whole campaign on the part of FeelMoreBetter. There's been a ton of discussion around photo shopping fashion pictures lately, but I think this campaign has done the best job of combating photoshop standards. FeelMoreBetter provided a bunch of bloggers with these shirts and had them style them with some incredible results. Even better, they donate a new book to an underprivileged girl for each t-shirt sold.
Full busted women bump up against this issue a lot, so I'm thrilled that people are making figure flattering t-shirts that also make a smart point. From people assuming your breasts are fake to to people harassing you on the subway, full busted women deal with a whole host of issues based on the assumption that their body type isn't found in nature.
Independent of the message, this is the kind of shirt that looks great on full busted women. The scoop neck is flattering and will highlight your curves and the 3/4 length sleeves will help you look taller and leaner. Think of this as the badass ballet girl look. This would look great with an elegant black skirt or with jeans and a cherry red leather jacket and some flats. However you wear it, do it with attitude!