I'm a huge fan of classic jewel tone clothes. I'm an even bigger fan of jersey clothing, so Eliza Parker pieces tick all the boxes on my list of favorite things. There are lots of great plus size ranges appearing lately, but Eliza Parker produces clothing from size 10 to size 28. I'm thrilled to see someone covering such a wide range of sizes, as a well a designer who is producing such classic pieces. I'm thrilled that the designer, Jessica, was able to make some time to answer my questions about the line.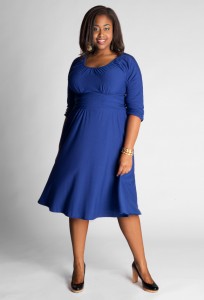 Holly: How did you choose the size range for Eliza Parker? Many brands make the cutoff at size 14, but you go as low as size 10. What made you decide to include such a wide range of women?
Jessica: We knew there were a lot of women who were not being well served by the current market. Most mall stores base their fit on a size 4 or 6 and then scale up to the larger sizes.  As a result, curvier women in size 10 and up often find it difficult to find a good, flattering fit.  We wanted to include extended sizes in our line for women who were not satisfied by the fit provided by straight size shops.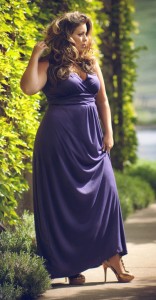 Holly: What do you think full busted and plus size women are looking for in a clothing company? How does Eliza Parker fill a hole in the market?
Jessica: I think that curvy and plus size women want stylish clothing that fits and flatters their bodies.  We want on-trend dresses and separates that are effortless to wear and are comfortable against our skin.  Our goal at Eliza Parker is to develop a great fit first.  Then we spend a lot of time thinking about fabrics, colors, prints, and special details and trims.  We want women to wear our clothing and love it.  We develop silhouettes that flatter the curves, pick fabrics that are luxuriously comfortable, and add on-trend details.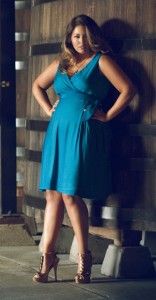 Holly: Who is the ideal Eliza Parker woman?
Jessica: I am designing for a woman who is always on the go. Our customer needs great separates for work and party dresses to wear to weddings, cocktail events, and other occasions. She is stylish and loves clothing that fits her curves.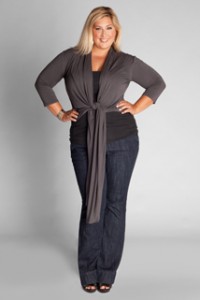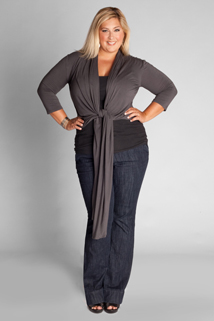 Holly:  What's next for Eliza Parker? What new colors or designs will we see in upcoming seasons?
Jessica: As always, we draw a lot of inspiration from 1950s and 60s silhouettes — a time when women's curves were really celebrated.  Customers will continue to see those themes run throughout our collections.  We have some gorgeous new dresses on the way including a sleek colorblock dress, a charming cocktail dress with a touch of lace, and a sexy cowl neck dress