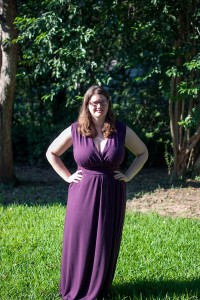 I would like to start by pointing out that I took tons of pictures of this dress for this review. Predictably, Murphy's Law took over and the camera card is now stuck a computer hard drive accidentally so we'll have to make do with this one with spotty sun lighting.
I did a designer interview with Eliza Parker a little while ago, and was really flattered when they offered to send me a dress. I was also excited because I've never owned a maxi dress before, but after seeing gorgeous versions of them on other bloggers I was dying to give one a try. I asked to try out the Portofino by Day in Deep Magenta in a 10/12. I was a little nervous, because the measurements of the dress are a 43″ bust, a 36″ waist and 44″ hips. I was going to be under all the measurements except for the bust one, and I really wasn't sure it would fit.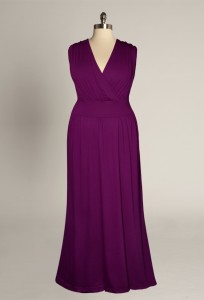 As you can see, the color of the dress is different in person. I was actually pleased by this, since I own tons of dark magenta and the dress is more of a rich plum color in person. It's made out of an incredibly high quality jersey material, which means it stretches and looks slimming on. It also feels like you're wearing the world's most comfortable and glamourous nightgown (in the best possible way!). The band around the waist made the fit just perfect.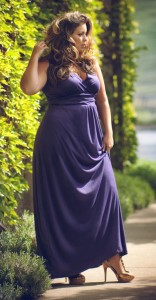 Eliza Parker sells a Portofino by Night version of this dress that has dressier fabric, but I've tried dressing this up and down and it works for a wide variety of occasions. I've worn it running errands around town with purple and pink flats and out with gold jewelry and heels. I'm not sure it would make it to a black tie ball or a symphony, but it will work for just about anything else life throws at you. When I'm wearing it for work or quick errands, I throw a black tank on under it. It looks long on me in these pictures, but it is really the perfect length for my 5'4″ frame. I can wear it with heels or with flats. This may change as I lose more weight, but it will be easy to have it taken up at that point.
My ultimate review (and if you know me you'll know that this is a big deal) is that I would happily pay full price for this dress and feel like i had gotten a good deal. I'll definitely be back for more from Eliza Parker, especially since they have such great end of season sales. As I get older I'm learning that you honestly get what you pay for, and Eliza Parker pieces are worth the price tag.