It's been a long week here! Hurricane Isaac mostly passed us by but between the state of emergency, prepping for any potential danger and watching depressing pictures of my favorite city flooding on the news I feel pretty worn out. Did you guys get any crazy weather this week?
I've been thinking lots about body image this week, mostly as a result of this interview I did for Ash In Fashion. It's the first really personal interview that I've done, but it covers a lot of ground and I found myself talking about lots of things I don't normally open up about.
In other body image news, this piece from the Butterfly Collection blog about how to help a busty teen emotionally is very much worth reading. I wish I'd had someone to do this for me when I was 16. Hell, I wish I'd had someone to do this for me when I was 22.
And last but certainly not least, this Tumblr full of people who have decided to stop hating their bodies is really inspiring.
If you're a fan of Disney Princesses, than you need to check out these Disney Princess inspired illustrations featuring lingerie. I'll take both Cinderella and Belle's lingerie sets, please.
I was featured (along with some other amazing bloggers) on Bra Queen's site this week. I love all the different perspectives we have on blogging.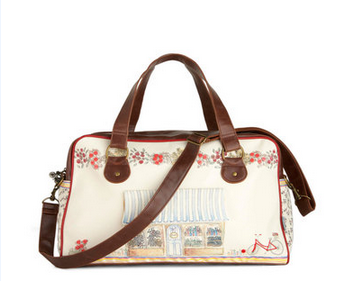 Lastly, I'm hoping that you readers can help me find the perfect overnight bag. I love this one from Disaster Designs, but it's $109 which seems like a lot for something I won't use very much. I'm going to take a quick mini-vacation in the French Quarter next month and want a cute bag that will hold 3 or 4 days of light clothes, one or two pairs of shoes, and some other basics. Does anyone have any suggestions?