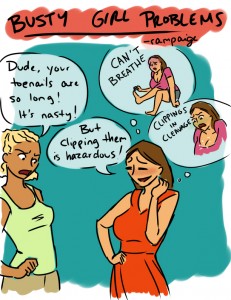 I had this issue earlier this week when I went to do up a pair of high heeled shoes. Even if you're in shape, you can't always lean forward comfortably when you're full busted. In addition, Busty Girl Comics just reached their 200th comic! Go check out her work if you haven't already.
In bizarro fashion news, the string of weird body/photoshopping controversies has a new entry. Now, we're photoshopping women bigger rather than smaller. Apparently it's all in the name of "health", but that still equates health to body size. It's like some crazy opposite day thing with all the stupidity of the original issue. Size doesn't always indicate health, guys. However, photoshopping pictures to make women crave unrealistic body types never works out well for anyone.
Miss Underpinnings reviewed her new Ewa Michalak bra this week, which I am terribly jealous of. It's pink and girly and gorgeous on her. I really hope they come out with more girly PL styles soon.
Every time someone I know tells me they are going on a cleanse diet I assume they're kidding, but lots of people love them (including some sane people that I know and respect, so I may be biased). That said, this seems like an honest and hilarious review of one of them. I think I'd be dead on day three.
I'm not nearly as good about following other bloggers as I should be, but the Sweet Nothings NYC blog has popped up on my radar recently and I'm in love. She's fun, sassy, and a hell of a writer. She also blogs about baking and dancing along with lingerie. I hereby invite her to be my new best friend.
Have a great weekend everyone! Any and all flu recovery tips are appreciated if you want to leave them in the comments.