Kelsey is back! This time she's guest posting about her lingerie boutique discovery in Lake Placid. I'm really fascinated by boutique reviews, since I don't get to do many and I have to buy off the internet so heavily. Although, New Vision would have had me at water and chocolates too!
Ever since I started learning more about the lingerie industry, I'm fascinated with what's actually out there on the market and not just conveniently located at my nearest Victoria's Secret.  Turns out, there are more, and way better options.  Unfortunately, living in Poughkeepsie, New York, there aren't tons of options of lingerie stores besides the regular big chains, and department stores.  I've found that department stores generally carry a pretty good selection of brands, but there's obviously still a difference from a boutique with associates that are specialized, and actually interested in the garments.  Anyway, what I'm trying to say is that although the beauty of the internet gives me access to pretty much any brand of lingerie I want, it's not the same as visiting the store, chatting with the workers, and yes, actually trying something on.
It's funny I should talk about the value of trying things on since I'm normally a shopper who prefers to "wing it" instead going through the process of actually taking off my clothes, putting on something that probably won't fit right, just to have to change back into my original clothes.  It's exhausting!  However, after I blogged about my first real bra fitting (yes, I'm a real girl now!), learning my actual size, and feeling how a bra should actually fit, I accepted that it would be helpful to try a couple bras on if I have the benefit of being in an actual store.
Which brings me to my main point–I was recently in Lake Placid, New York for our annual family vacation.  I'm a "black sheep" of sorts in my family, they all enjoy being outdoorsy and hiking 10 miles a day, where I'm more of a lay-by-the-pool-with-a-drink kind of vacationer.  Alas, in a town like Lake Placid, filled with quirky gift shops and hiking stores, I did manage to find a lingerie boutique, New Vision Lingerie.  The name is fitting to one of the many reasons I love lingerie, it gives you a new way to see yourself.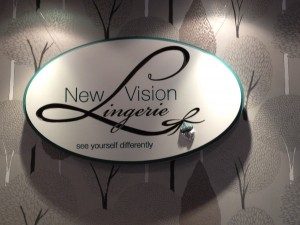 Inside, it was filled with walls and walls full of bras. Pretty much every wall looked like this from floor to ceiling, so there certainly wasn't a lack of options.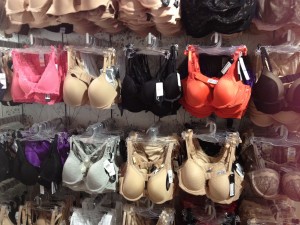 Even things I didn't know I wanted somehow manifested themselves in this small shop in an even smaller town.  Like this piece from the bridal wall.  I'm nowhere close wanting to settle down, but after staring drooling at the bridal pieces, I started warming up to the idea…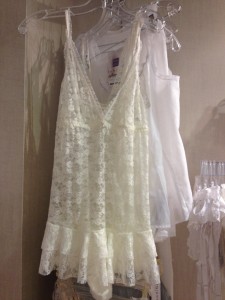 It was a great opportunity to actually try on brands that I've seen online, but haven't gotten around to seeing in a store.  The fitting rooms were roomy and had great lighting (which really helps when you're trying on a bra after eating a big meal…), and a measuring tape was in there too.  Just out of curiosity, I measured myself again to see if I really was a 28D that another store had told me.  Turns out I was, and Victoria's intriguing little secret is really just hiding your true bra size from you.  I guess I'm a little miffed that I went five-ish years being told I was a 34B.  New Vision Lingerie also offered free water and chocolate by the dressings rooms too, talk about customer service!
Just like the other boutique I had been in, I was given about a million different options in a couple different sizes to see what was the most comfortable.  While they didn't carry the 28D in the white push-up bra I had my heart set on, the 28C fit just as well.  I walked out with the white bra from Affinitas, matching lace panties, and of course I couldn't pass up the wonderful Jezebel bustier with garter straps.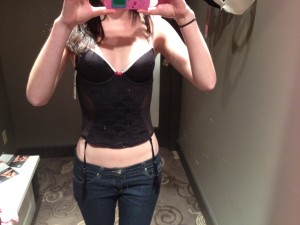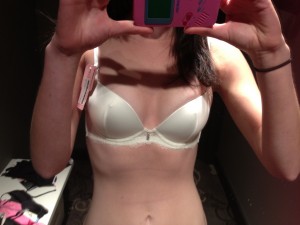 Although I put up with a lot of things that were out of my element on this adventurous vacation, I stumbled up New Vision Lingerie on the last night in town and took it as a sign that it was my reward for making it through another family vacation.  But it also reminded me that until you're comfortable knowing how you fit into certain brands and styles, really the only way to figure it out is through the trial and error of dressing rooms.  And there's no better place to do it than a boutique, where the associates are happy to help, and the quality of the shopping experience is almost as good as that of the products.
Happy shopping!