It seems that the internet has become obsessed with full busted women this week! It started out with this article on Slate about how difficult it is to find full busted bras in stores in the US (which this blog is cited in!) and was followed by this completely frustrating article on Jezebel about how women think they want bigger breasts but they're really just a curse. You should go read both articles, but I almost gave up when the Jezebel writer concluded that big breasts were only good for drooping and attracting truckers. I suppose it's inevitable that as full busted women get more press lots of it will be negative, but I hate seeing these kinds of stereotypes show up on sites that I respect and read frequently.
In positive body related news, Robyn Lawley will be modeling for Ralph Lauren! At 6'2″ and a size 12, I'm not sure Robyn represents the average plus size woman on the street, but you can't deny she is both gorgeous and talented. I'm hoping she starts showing up everywhere now, and I want to know what her exercise routine is.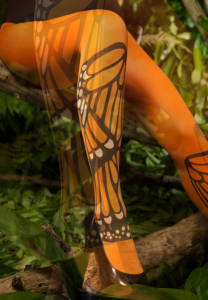 This article on The Lingerie Addict about Fall/Winter tights is worth a read, and also reminded me that the new Les Queues Des Sardines collection is out! People seem to love or hate their stuff (I am in the love category, my mother is in the hate category), but their designs are sophisticated while retaining that childish sense of fun and clashing colors. My Bouba tights have been wonderful, and they're definitely worth a splurge.
Hourglassy will be co-hosting a Busty Clothing Swap in NYC on October 20th! The thrift shopping addict in me loves this idea and I wish I could go. Anyone want to go and do a guest post for me on the experience?
Speaking of thrift shopping, I've resumed my thrifty clothing hunts this week. I really lucked out at two places, and I'm thinking of doing some outfit posts about it. Are people interested in thrift store based outfit posts, or are they not useful because you can't replicate the outfits? Please let me know, and I'll plan some content accordingly.
Miss Underpinnings has an adorable video review of the Piper Longline bra by Freya. I've never really loved the styles from Freya, but next season may change all of that.
Have a great weekend, everyone!