I have a kind of bizarre confession: I pretty much live in plunge bras. I know lots of women consider them special occasion bras, but I'll cheerfully toss one on underneath a t-shirt and jeans when I go to the grocery. My normal plunge bra of choice comes from Ewa Michalak, but for the first time in ages I decided to give a different brand a shot. For those who shop at Ewa Michalak, you may have noticed them stocking fewer large cup sizes and adding more fees onto each order. While this won't stop me from ordering from them, it does make me feel better about exploring other options.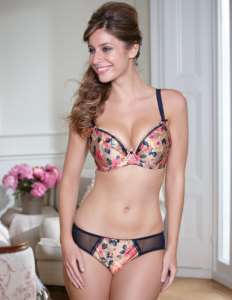 This all came to a head when I ordered my new Birdie Dress from Pinup Girl Clothing and realized that I needed a white or a nude bra to go underneath it. My last white bra recently bit the dust (it dramatically died and got turned blue at the same time), so I was way overdue for a replacement. I've been jealous of everyone else and their gorgeous Bravissmo bras, so I decided to give their white Satine a try. I may have gone slightly overboard by ordering the Oh So Kimono Bra and the Floral Mink Bra at the same time. These are all the same shape as the Satine, so it was either going to be a pain in the butt return or love.
I'd heard that the cups in the Satine shape run small, but I was brave and ordered the 32J anyway. I then promptly spent the next week being nervous that all of it wouldn't fit. Shipping took 8 days from the UK (which is practically the shipping equivalent of a Star Trek transporter) and wasn't expensive at all. Three bras cost around $100 without shipping, with the Oh So Kimono being slightly on sale.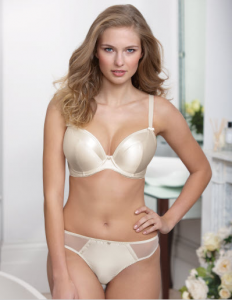 The white Satine was a practical purchase, but it had an appealing elegance. The Oh So Kimono bra is a gorgeous bright blue Asian inspired print and the Floral Mink is classic while feeling a little offbeat due to the colors.
Thankfully, they all fit perfectly. More than that, this may be my new favorite bra of all time. Each bra is a smooth moulded cup that is covered with a soft satin. This gives even the basic Satine a dose of glamour and really makes the pattern in the two others pop. I was especially impressed that all three bras fit the exact same way. I've gotten so used to colors of the same bra fitting differently that this was a welcome change. The 32 band is firm but not uncomfortably so and the cups are soft and supportive. These bras also have the lowest gores I've ever seen in a plunge bra in this size range, which makes me extremely happy. The only downside is that the straps are incredibly long, so those of us with smaller shoulders will have to really work to keep them tight enough.
The Satine shape bras won't do the same thing that an Ewa plunge does — if you're looking for that full on torpedo boob effect, this probably isn't the bra for you. It's a more subtle sort of plunge, although it seems odd to describe it that way. If you struggle with underwires that attack your armpits, these bras are great (Ewa Michalak bras are not immune to this problem). Nothing has poked or prodded me since I got them, and I honestly forget that I'm wearing a bra when I have them on.
I'll happily buy any more versions of this bra that Bravissmo will put out!