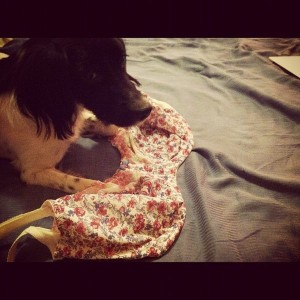 It's Didy's birthday today, which means that we'll be taking a break from the usual lingerie and fashion talk to do some rescue dog promotion. For those who don't follow Didy's adventures through Twitter, here's the capsule review.
Sir Didymus (or Didy for short) is a springer spaniel rescue dog I adopted several years ago. He was found in a cage at the back of a meth lab when the police raided it, and was then put into another cage at a no-kill shelter. By the time I adopted him he was, as the Project Runway contestants would put it, a hot mess. If you tried to put a leash on him, he would hunker down in a fetal position and cry. If you tried to feed him, he'd hide until you left the room. If you surprised him, he'd hide under the bed with his paws over his eyes and cry.
With lots of work, treats, and love Didy has turned into the world's greatest pet. He sits on my feet all day when I work and even keeps me company while I handwash all my lingerie. He still has a long list of things he isn't a fan of: delivery people, unexpected noises, other dogs, strangers, and anything that has a lower calorie count than a Twinkie. He's not perfect, but he's the perfect dog for me. We're a team, and I'm grateful that I found him.
Which brings me to the non-sappy part of this post — rescue dogs are great, and everyone should have one. Shelters are literally overflowing with dogs who are desperate for a nice quiet home and a little love. Lots of shelters are smart and put the cute puppies upfront, but many shelters have a whole room in the back of dogs who are well…less immediately adoptable. Some are huge, some are traumatized, and all of them just need a little bit of help to get back on their paws. My experience with Didy shows me that those are the dogs that have the most to give back.
If you're looking for a specific breed of dog, you don't have to go to a breeder! Most breeds have nationwide rescue organizations who can help connect you with the right dog for you. Alternatively, you can try sites like Petfinder to browse dogs who might be the right fit before you go meet them. However you do it, don't discount your rescue dog options when you're searching for your next pet.