A few months ago, a whole bunch of blog owners got an email on behalf of Rhonda Shear's company about trying some products for review. I was actually really excited — there have been several great reviews of the Aah Bra as a sleep bra in the comments here, and I was eager to try out the flagship product of the Rhonda Shear empire. Rhonda Shear has sold 25 million Aah Bras, which isn't too shabby.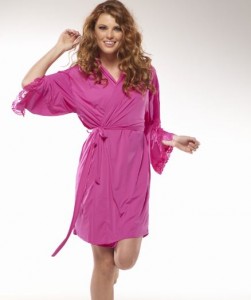 It's really hard to not like Rhonda Shear and her company. She has a great online presence and a wonderful sense of humor. She is also clearly great at promoting her stuff and running a company. That said, this is the first time I've seen lots of lingerie bloggers review the same company around the same time, and the Aah Bra (and this company in general) brought up some pretty extreme reactions.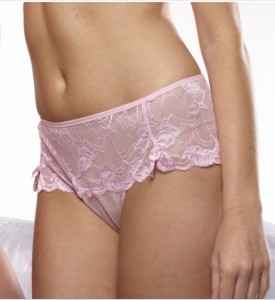 I will also preface this review by saying that I don't own a tv and pretty much only watch commercial free shows, so I wasn't familiar with how this bra was advertised. I haven't seen any infomercials or seen Rhonda on HSN, so I came into the products with a fairly fresh eye. I had seen Rhonda Shear products carried by various boutiques that I respect like Dollhouse Bettie, which made me think they must have something good going for them.
I received a mix of samples that included The "Aah Generation" Bra with Removable Pad (which I did remove), The "Cheeky" Lace Panty and the "Sweet Nothings" Short Kimono. All of my samples were size medium. My regular bra size is 32J, and I'm a size 12 or so in dresses.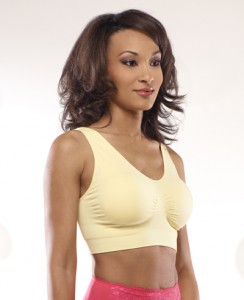 We'll start with the one everyone wants to hear about, which is the Aah Bra itself. The version I received had pads that would have worked on someone in a smaller cup size but were mostly glorified nipple covers on me. I took them out. The band was decently tight on me and stretched to encompass all of my breast tissue, which is no small feat with my bra size.
I didn't go into this review believing that this bra would be an out of the house option, but I've been searching for a sleep bra and thought that this might do the trick. For me, it does. This bra won't give you a ton of lift or separation, but it's great for lounging around the house or making sleeping on your stomach easier. I even wore it out to walk the dog once and it wasn't bad, although I wouldn't try that on a regular basis. Even better, it's cheap and washable! I've worn mine to sleep in a lot and it's still in good shape despite repeated trips through the washer and dryer. This bra won't  rock your world as a substitute for a great fitting underwire bra, but if you're looking for something cheap and easy to make sleeping more comfortable this is definitely worth picking up.
The Cheeky Panties are a basic tanga style lace panty, but they were comfortable and fit well. Hipster cut panties usually don't work for me as I have the narrowest hips on the planet, but these felt comfortable and were flirty and fun. That said, I'd be more likely to recommend the bra than these because of the price. At $22 a pair, you can do much better in terms of style and fabric quality by hitting up an independent designer on Etsy.
The big surprise of this sample set was the Sweet Nothings Kimono. Mine was in the strawberry color, which is shockingly pink but not enough to make me think of Pepto Bismol. The fabric is almost like a thick spandex, with lace trim running down the sleeves. I'm the proud owner of lots of robes, but I don't wear them as much as I would like to due to dangers like spilled coffee, Didy jumping into my lap when I'm half awake, etc. This robe is cute and comfortable, and can survive anything and wash beautifully. As a result, this is my new go to robe for the mornings. I can play piano, make tea, do dishes, or play with Didy in it. When it gets dirty or I spill something on it, 15 minutes with some lingerie soap in warm water makes all of the gross stuff disappear. It's perfect for those of us who want to look nice without risking ruining an expensive or difficult to clean item.
What do you think of Rhonda Shear products? Have you tried the Aah Bra? Let me know in the comments.